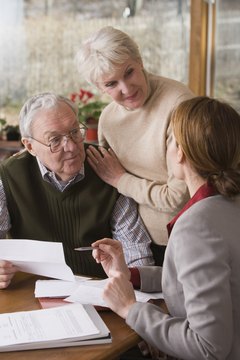 The objective statement on a resume is more than just a line that says you want a job. This section goes just under your contact information and serves as the first sentence in your cover letter. Its purpose is to define your goals and focus the direction of your resume. Use the objective as you do every other aspect of your job search -- to add one more selling point to your qualifications and enthusiasm for the position.
Mention Specific Job
Be very specific and refer to the exact title of the job you want, where you want to work and how you'll get the job done. For example, on your resume, write: "To utilize exceptional listening skills and vast referral network in the capacity of geriatric counselor at the Green Gables Retirement Center to increase client satisfaction." Use a similar sentence in the first line of your cover letter, though you should change up the wording slightly.
Highlight Qualifications
If you need a counseling license for the position, give that information to the recruiter in the objective so she won't have to wonder if you're even qualified for the job. An objective that focuses on your qualifications is especially useful if you recently graduated. Go with something like: "To utilize my North Carolina clinical social worker license and master's of social work degree to work with elderly clients in a caring, compassionate environment." This way, you're giving the recruiter plenty of reasons to keep on reading your resume, which could lead to the all-important interview for the job.
Focus on Skills
Play up your experience and skills in the objective if you bring those to the table. Let the resume reviewer know that you're ready to tackle the position right away with an objective that focuses on skills. Try: "To employ extensive eldercare experience in nursing homes and assisted living facilities at the Green Gables Retirement Center and bring strong listening, problem-solving and guidance skills to bear at a time when clients are most in need." That objective statement says a lot about your personality and your background, again urging the reader on to find out more about you, and sets you up to make the cut for an interview.
Hint at Goals
Give the reader a glimpse of the kind of go-getter she'd be getting if she hired you. Use the objective to give her a hint of your career goals and the targeted population you want to work with. Mention your goals in an objective; write something like: "To find a fulfilling and challenging counselor position working with seniors in an organization where I can grow and continue to develop my geriatric counseling skills while building a future with the organization."
Photo Credits
Comstock Images/Comstock/Getty Images