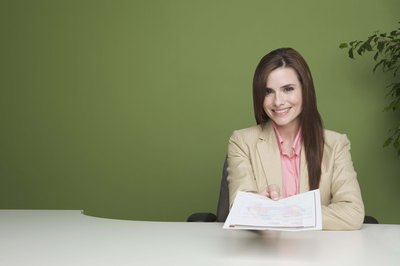 A career objective is that section on your resume where you write about the job you want. It's a couple of lines dedicated to the specific position and gives you an opportunity to make a good strong first impression because it is the first thing recruiters read after your contact information. Use the objective to make a pitch for yourself and how you are the absolute best candidate for the job.
First Impression
When a recruiter opens your email attachment or the envelope in which you mailed your resume, the first thing she sees is how the document is laid out. Your initial impression can suggest your knack for organization and visual balance, or it can signal that you haven't yet mastered the art of centering the copy and changing fonts on your computer. Not only should your objective create a desire for the recruiter to read on, it should look good and use absolutely flawless spelling, grammar and punctuation.
Stand Out
Effective career objectives make you stand out from the crowd of resumes that most every position generates. You can show a little initiative here by investigating the company and including information you learned in the objective. For example, write a sentence that includes the history of the company and how the advances made "in the last 54 years" makes it such an attractive place to work and where you want to help continue the grand traditions begun by the company founders.
Get Specific
Large companies receive resumes all day long for a variety of positions. The business may even be advertising for multiple positions at one time. Save the recruiter valuable time by putting the job number and exact title in the objective. If the person reading your resume can't figure out which job you're applying for, she may quickly toss it in the circular file. You'll also gain points and possibly jump to the top of the pile if you add important features about your qualifications right up there in the objective. For example, if the position requires you to hold a license, say that you are a licensed so-and-so in the objective, making it worthwhile for the recruiter to continue reading.
Individualize
Many job hunters create one resume to fit every application. They write one generalized career objective and hope it fits every job they apply for. You're cutting your odds this way. To be most effective, write an individual objective (and resume) for every job you apply to. Use keywords you find in the company advertisement to get by computer vetting programs that weed out resumes that don't specifically answer the ads. Name the company in the objective as the place you hope to work for. Customize your objective to the exact parameters of the job to make it by the gatekeepers who send only the most qualified up the chain of command to the hiring manager, who eventually grants interviews.
Photo Credits
Jupiterimages/Brand X Pictures/Getty Images