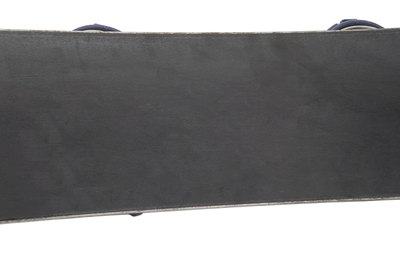 Before hitting the slopes, make sure your snowboard is in top condition by coating the base in a thin layer of wax. This daily maintenance not only extends the life of your board's hard wax, it offers protection against nicks and scratches, helps the board glide more smoothly and improves your board's turning capability. Even high-end boards can benefit from wax touch ups. Just select a wax that is suited to the type of snow and conditions on the slopes. Waxing paste is portable and easy to apply, so there's no reason to skip waxing your board's base.
Clean and dry the base of your snowboard. This should not be a problem before your first run. However, if your snowboard is feeling rough and you decide to reapply, trapping dirt and moisture in the wax will just make matters worse.
Open the wax container and remove the applicator sponge. The sponge often just sits on top of the wax.
Dab the applicator sponge in the paste wax. Check the sponge. If it was sitting on the wax, you may not need to pick up more wax on the first use.
Use small circular motions to apply a thin layer of paste wax to the base of your snowboard. Work from the tip to the tail of the snowboard. Remove any excess, or buildup -- especially around the edges.
After finishing your wax, it's time to hit the slopes. The wax is ready for the snow right away.
Warning
Waxing paste is temporary and not a suitable replacement for hot wax treatment.
References
Photo Credits
Photos.com/PhotoObjects.net/Getty Images