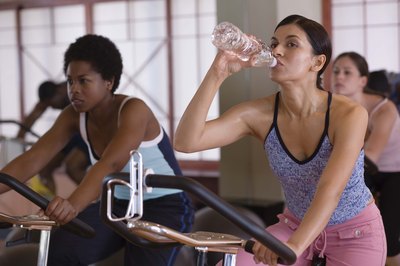 A little more spinning -- with its amazing calorie burn of 350 to 600 in 45 minutes -- and a little less nesting on the sofa can tighten those glutes again and return the shapeliness to your legs. Spinning ranks high among leg- and glute-toning exercises and can be especially valuable if you're pear-shaped and tired of being that way. If you're new to spinning, attend a beginner class so you can keep up with the pace.
Prepare yourself well for a tough workout so you can enjoy the spinning class. "Anything that you enjoy you are going to do more," notes Pam Bennett, group exercise director at the Mac Harbor East gym in Baltimore, Maryland. Wear cycling pants with a padded seat, plus a wicking-fabric top -- ideally with short or no sleeves so you can dispel your rising body heat -- and stiff-soled shoes. Bring a full water bottle and arrive early so the instructor can help you adjust the seat and handlebar height, and the seat's horizontal -- fore-and-aft -- position, to custom-fit your torso and legs.
Follow the instructor's directions on when to sit and when to stand. Visualize the descriptions of long seated hill climbs, standing hill sprints, flat sprints and flat cruising to recovery. Your four pedaling modes are the seated flat and climb, and the standing flat and climb. "Spinning hits both strength and cardio," Bennett notes. "Hill climbing strengthens the glutes and legs, while sitting burns more calories. Any kind of resistance you put on your muscles, such as on a hill climb, is going to trim and tone."
Increase the resistance by turning the knob under the handlebar clockwise, especially before standing positions, and lower it by turning the knob counterclockwise. Your instructor may cue you on when to change the resistance. Listen to your knees, especially, to make sure they can take the resistance setting without discomfort.
Allow the instructor's music and instructions, and the hard work of others in the class, to inspire you to cycle just a bit harder. As you're directed to ride against the wind and visualize the terrain ahead, go with this instruction. If you're an experienced outdoor cyclist, the imaginary nature of these instructions may be jarring at first, but you can retool your thinking to realize that spinning offers a time-efficient and safe means of replicating 15 to 20 miles on the road during a 45-minute training session.
Items you will need
Padded cycling shorts

Top with wicking fabric

Stiff-soled shoes

Bottled water
Warning
Avoid any moves that lead to pain or numbness and be skeptical of classes that add weights or Zumba Fitness moves, or ask you to hover over the seat, advises master spinning instructor Jennifer Sage. She lists these contraindications as reasons to walk out of a spinning class, which she says is hard enough already.
Resources
Photo Credits
Jupiterimages/Comstock/Getty Images