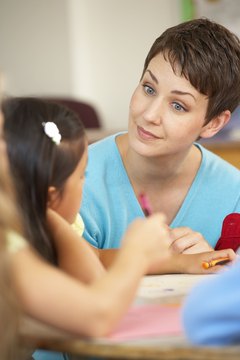 Not everyone wants to be a teacher. If you are interested in working in the classroom without the responsibility or preparation required of teaching positions, you may find the paraprofessional or teacher's aid position appealing. The exact qualifications vary from state to state, but generally require a minimum of two years of undergraduate studies.
Graduate from high school or earn the equivalent of a high school diploma. Not only will schools generally expect this minimum requirement, but you will need to have this before you will qualify for any of the other required training.
Check with your state department of education to find out exactly what is required of paraprofessionals. Some states certify paraprofessionals. Depending on the school you wish to work for, if it is a school that serves a low-income population or receives Title I funding, you must meet federal qualifications as outlined by the No Child Left Behind Act.
Complete your state's education requirement. Title I schools are required to hire paraprofessionals who have completed two years of college education, earned a minimum of an associate's degree or have demonstrated proficiency on a general aptitude exam such as the ParaPro Assessment. Many states use these federal guidelines as a minimum requirement.
Earn any additional certification, such as CPR, safety or state-specific training that is required.
Submit required paperwork and documentation to the school district or state board of education, as requested. Expect to be fingerprinted and pass a background check before you can be hired. Some schools or states also require a recommendation from an educator or that you demonstrate good moral character.
Photo Credits
Jupiterimages/Photos.com/Getty Images