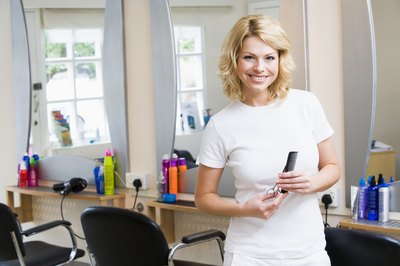 The field of cosmetology is a broad one, including occupations such as wig specialists, barbers, hairdressers, manicurists and estheticians. In order to work as a cosmetologist, you must be properly licensed by your state board of cosmetology. Each license must be renewed by the date that appears on the front of the license. Don't wait until the last minute to renew your license. It is a good practice to start the renewal process 30 to 45 days before the scheduled expiration date.
Ensure that all continuing education classes have been completed, if applicable. Many states only require continuing education courses for instructors and master cosmetologists. The exact number of continuing education class hours you need varies by state. To determine the continuing education requirements for your location, contact the state board of cosmetology.
Contact your state board of cosmetology to request a cosmetology renewal application. Depending upon your state, this application may also be available on the department's website.
Complete the renewal application. On the renewal application, you may be asked to verify your completion of continuing education courses.
Submit the license renewal application and renewal fee to the state board of cosmetology. Wait to receive your new license in the mail.
Items you will need
Renewal application

Renewal fee
Photo Credits
BananaStock/BananaStock/Getty Images