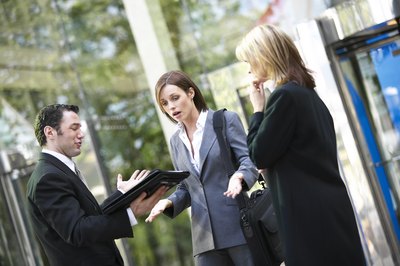 Mediators serve as the voice of reason in disputes between two parties, and they work to resolve conflicts without litigation. As a professional mediator, you'll need to be able to work well with people of all types of backgrounds. According to the Bureau of Labor Statistics (BLS), there is no national license or certification for mediators. There are a number of certification programs available, though, and if you intend on working as a mediator or hope to teach mediation to others, you'll need to be certified.
Obtain a degree from an accredited college or university. According to BLS, getting a college certificate in conflict resolution or studying it in a two-year master's degree program is sufficient for many mediator positions, although some states may require a law degree. Public policy is another relevant field in which to obtain a degree.
Complete at least 40 hours of basic mediation training. You can receive training by working under the direction of a professional mediator, by taking a continuing education course, or by participating in a professional mediation organization. According to Mediation Training International Institute, each state varies on its training requirements, but this amount of time is the nationally accepted standard.
Complete at least 20 hours of advanced mediation training, which will build upon your basic knowledge base. In this training you likely learn skills such as mediating an impasse between two parties, addressing emotions during a conflict, and how to reframe and diffuse language in a dispute. Your state's Department of Labor will have specific details on how much training you'll need for certification.
Take a certification exam through an independent mediation program, a national or local membership organization or a post-secondary school. The cost of certification and the type of exam offered varies greatly among entities, and can range from open-book written tests to take-home exams.
Receive your certification card and/or certificate after passing your exam. Maintain your credentials by renewing your certificate within the specified amount of time, some states require renewal every two years while others require annual renewal; still others mandate renewal every five years. You may need to re-take all of the exam or a portion of it, or take continuing education courses to satisfy renewal requirements.
Photo Credits
Hemera Technologies/AbleStock.com/Getty Images