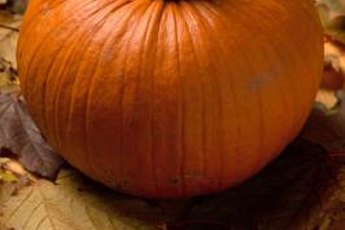 i
Hemera Technologies/Photos.com/Getty Images
Pumpkins are good for more than just carving into spooky and funny faces for Halloween. This brightly colored autumn vegetable is packed with antioxidants and nutrients such as vitamin A, according to MayoClinic.com. While pumpkins are in season, you can bake or microwave the soft pulp inside and then blend it into a puree with a food processor or blender. For other times of the year, take a convenient shortcut and add canned pumpkin puree to your cooking and baking recipes.
Soup
Soups are a comfort food for any time of the year, particularly the crisp autumn and winter months. It's also comforting to know that you can pack your soup with antiaging antioxidants by adding pumpkin puree. MayoClinic.com recommends using freshly made or canned pumpkin puree to make a low-fat soup that is rich in vitamins and minerals. Stir in unsalted vegetable broth and fat-free milk to keep the soup low in calories and sodium. Flavor your bright orange-colored soup with an onion, grated ginger and spices such as ground cinnamon, nutmeg and black pepper.
Pasta Sauces
Pasta is a versatile food for lunch or dinner; however, rich, creamy sauces can add hidden fats and calories to your diet. Make low-fat, nutrient-rich pasta sauce by adding pumpkin puree to thicken it instead of cheese, cream or vegetable oils. Stir fresh or canned pumpkin puree into your traditional pasta sauce recipe to bulk it up. The pumpkin puree will give your pasta sauce a slightly sweeter taste and an orange hue. Additionally, you can replace some or all of the mincemeat in your sauce to make it lighter and low-fat or vegetarian. Use whole-wheat pasta for more fiber and nutrition.
Low-Fat Cakes
Use pumpkin puree in your homemade baked desserts besides Thanksgiving pumpkin pie to make low-fat, guilt-free treats. EatingWell recommends adding pureed pumpkin to help moisten and sweeten a low-fat cake. This means that you will need to use much less butter or shortening and sugar than you might otherwise need to bake a cake. Experiment with pumpkin puree instead of mashed bananas to make a pumpkin-and-walnut loaf or muffins.
Brownies
Chocolate goes with everything, even pumpkin puree. You may not have thought of pairing pumpkins with cocoa, but these ingredients can give you a delicious feel-good dessert. The Dr. Oz Show recommends combining canned or freshly made pumpkin puree with chocolate, peanut butter and other ingredients for a twist on the traditional brownie recipe. As the pumpkin puree adds moisture and natural sweetness, you will not need to add as much shortening and sugar, making your pumpkin brownies lower in fat and higher in nutrients.
References
Writer Bio
Nadia Haris is a registered radiation therapist who has been writing about nutrition for more than six years. She is completing her Master of Science in nutrition with a focus on the dietary needs of oncology patients.