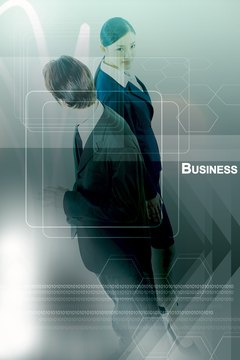 You don't have to create a circus act to attract visitors to your job fair booth, but an appealing presentation might entice job seekers to inquire about available positions. Your booth needs to clearly display your company name because a job prospect might feel uncomfortable asking who you represent. Have plenty of business cards available too, so an interested individual has a way to contact you after the event is over.
Create a Ploy
Design a booth with a ploy, so job hunters are curious enough to stop by your booth. Job fairs usually have a huge number of booths and offer tons of information, so you want your booth to stand out from the crowd. You might make a giant sign that says, "Why Us?" and put it above your display board, place a jar of free candy on the table, raffle an item that has your business logo or wear an industry-relevant costume. Maintaining professionalism is important, so make your ploy appropriate, relevant and beneficial to job seekers.
Incorporate Young Employees in the Event
A balanced representation of current workers helps your booth appeal to job prospects of all ages. Ask young employees from your office to help with the event, so recent graduates and young professionals see your company as youthful, energetic and progressive. Ensure that senior managers are also there to answer tough questions and establish a mature, executive presence.
Visual Aids
Incorporate visual aids into your booth design. According to Oregon Health and Science University, photographs, giant posters, laptop slide presentations, oversized charts and prerecorded DVD presentations are effective ways to showcase career opportunities. Visual aids are also beneficial if visitors need information but your representatives are busy talking to other prospects. It's best to greet job seekers personally, but sometimes the crowds are too large and it's impossible to talk to everyone.
Advertise Open Positions
You can't entice job prospects with tacos if you don't have any meat. Make sure you have a visible list or a brochure that describes your company, industry goals and available positions, or job seekers won't have any reason to consider your company in the first place. Job hunters want to know if their skill sets match your needs, so clearly define job openings.
Follow Up
One of the most important job fair strategies is to follow up on prospects. According to the Central Florida Employment Council, consider hosting an open house the following day, scheduling introductory interviews with key candidates or making follow-up phone calls. The ball is in your court, so don't expect job seekers to hunt you down for a job.
Photo Credits
Photos.com/Photos.com/Getty Images