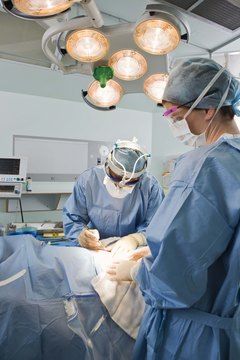 In movies and television, surgeons often gather three-deep around an operating table, bantering or snarling at each other as they work. In real life there's usually only one surgeon. The other professionals gathered around the table are nurses, surgical technologists and surgical assistants. That's because it takes a long time to train a surgeon -- and there are seldom enough to go around. Surgical technologists and assistants can provide the surgeon with skilled help during operations, reducing the need for additional doctors. First assistants are the most skilled, but ambitious technologists can upgrade their certifications as well.
Education is the first step
Graduate from a surgical technology program accredited by the Commission on Accreditation for Allied Health Education Programs (CAAHEP). Most of these programs take one to two years to complete. They combine classroom instruction in subjects such as anatomy, pharmacology and medical terminology with hands-on training in clinical settings.
Take and pass the certification exam offered by the National Board of Surgical Technology and Surgical Assisting, which qualifies you as a Certified Surgical Technologist or CST.
Find a job in surgical technology, in a hospital or other health-care facility. Gain as much hands-on experience as you can, assisting during a broad range of procedures with multiple surgeons.
Work your way up to the first assistant position. You'll need to learn how to provide suction and retraction, how to stop bleeding with hemostats or sutures, and how to make incisions or suture tissues as directed by the surgeon.
Apply to the National Board of Surgical Technology and Surgical Assisting for certification. You'll need to document 135 procedures in which you acted as first assistant, and provide two notarized verification letters from surgeons or surgical supervisors. Thirty-five of the procedures can be in general surgery, 50 in a single specialty, and the remaining 50 in any combination of other specialties.
Pass the certification examination, and you'll be credentialed as a certified surgical first assistant, or CSFA.
Tip
Instead of upgrading your skills on the job, you could opt for a formal surgical assistant training program. Those take an additional one to two years. Prerequisites include either a bachelor's degree or an associate degree combined with three years of experience in the field.
Photo Credits
Jupiterimages/Polka Dot/Getty Images