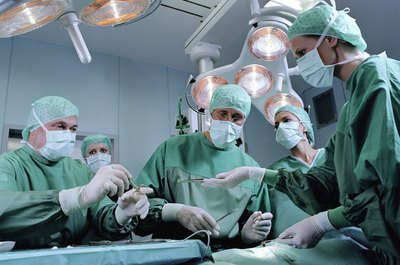 Most doctors and health care providers need help in a variety of ways. In the operating room, the O.R. technician is the in-house gopher. An operating room technician, also referred to as a surgical tech, is the helper who preps the room, sterilizes and gets all the instruments together, brings in the patient and serves any other needs nurses and doctors have during the surgery. From 2010 to 2020, the need for surgical techs should grow by about 19 percent, according to the Bureau of Labor Statistics.
Take science and math courses while you're still in high school to prepare for the continuing ed you'll need to become an operating room technician. Schools look for a concentration in chemistry, biology and health when vetting program candidates.
Enroll in an associate degree program for surgical techs at your local community college or vocational school. It could take anywhere from nine months to two years to earn a certificate or degree, depending on the program.
Gain experience in the field and meet the graduation requirements of your program by performing an on-the-job internship or clinical rotation at a local hospital or outpatient surgical facility.
Apply for a job at local hospitals and clinics or talk directly with surgeons, who often hire their own surgical team that follows them from one procedure to the next. Dentists who perform oral surgery also hire surgical technicians.
Items you will need
Surgical tech degree

Certified operating room surgical technician certification
Tip
Some areas, including the District of Columbia, require operating room technicians to earn a certification from either the National Board of Surgical Technology and Surgical Assisting or the National Healthcareer Association. You can find out if you need to get certified by checking with your state's health care regulatory agency. Even if you don't have to get the credentials, the knowledge will increase your effectiveness as a surgical tech and could help you land a job.
Warning
Not all operating room tech programs are accredited. While you may learn everything you need to know about the job by attending a school or program that's not accredited, you may be denied access to the certification exams and just have to enroll in another school and take the courses all over again.
Photo Credits
Jochen Sands/Digital Vision/Getty Images