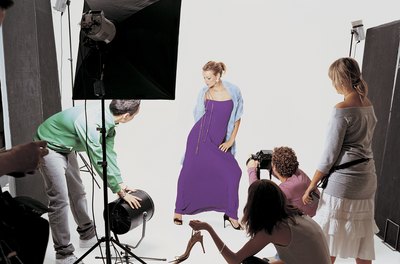 Lights, runways and portfolios are part of the modeling industry, especially if you're a camera- or audience-facing beauty, or the latest contestant on "America's Next Top Model." However, the modeling industry is just like any other business sector looking for talent in operations and administration. Going to a Barbizon Modeling and Acting Center interview doesn't mean that you're looking for an agent or that you're dying to grace the cover of "Elle" magazine. Because you're going to interview with a worldwide modeling agency and school, take evidence of your competence in your line of work so you can show and tell.
Choose a flattering and stylish yet professional interview ensemble. A suit is preferable, but if you're not the button-down, conservative type, wear something that projects a polished image. Combine up-to-the-minute fashion sense with color or accessories that make a statement about your knowledge of the industry. Don't feel as if you must wear your red-bottom Christian Louboutin high-heel shoes to show that you're a fashionista. Barbizon executives will be far more impressed by your business acumen than your wardrobe.
Carry your marketing or public relations portfolio with examples of successful campaigns if you're interviewing for a promotional role with Barbizon. If you have marketing plans of which you're especially proud, take several copies watermarked "Sample" to distribute during your meeting. Bring along copies of press releases and editorials you've written to illustrate your print and graphics talent. Promotional materials that show that you're tech-savvy are ideal, including websites and pages you've created.
Copy previous lesson plans and demos if you're interviewing for a position in Barbizon's modeling education area. Barbizon has roles for a director of education for modeling and acting; therefore, if you have expertise in developing curriculum in the modeling industry, that's terrific. Ideally, be prepared to share videos of classroom activities you've designed for aspiring models. When you're trying to break into the modeling industry, or if you're seeking an entry-level position as a modeling and acting instructor, but have transferable skills, provide evidence of your teaching skills and materials you used in previous jobs.
If you're looking for employment as an admissions representative or admissions director, prove your sales expertise and consultative sales techniques with evidence of your success as a salesperson. Your responsibility for encouraging students to enroll in the Barbizon center rests on your ability to sell the school's programs to both prospective students and, in many cases, their parents. When you interview for this role, take your revenue goals and notes about your track record in sales to discuss with the interviewer. When you're interviewing for an admissions-related position, focus on quantitative success.
Photocopy your resume for subsequent interviews with Barbizon managers and executives if you're looking for a job in administration. Again, Barbizon is a business and, therefore, has positions where your duties would entail accounting, process improvement, quality management and human-resources functions. Provide references as well, including recommendations from professors if you're a recent graduate.
Photo Credits
Digital Vision./Photodisc/Getty Images