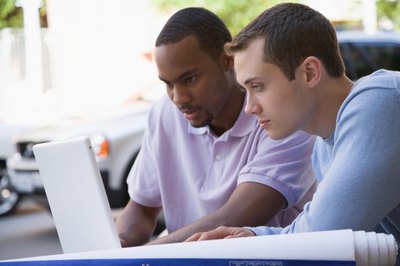 Getting an architecture internship is a great way to garner experience, land a coveted job and get the required background needed to become a licensed architect. Although the job market for interns can be competitive, with some thoughtful portfolio planning, networking in the industry and being thoroughly prepared for the interview process, it is possible to get an internship. Architecture firms are as interested in how the person they're interviewing will fit into their firm as they are in the portfolio.
Portfolio Preparation
Create a portfolio that showcases your best work. Review your previous projects and select a handful of examples that reflect your interests, background and skills. Use model photographs, floor plans and elevations.
Arrange the portfolio by project into a software layout program, organizing each project in a clear, easy-to-read fashion. Think about presentation and the appearance of the portfolio as well.
Add graphics and text as needed to label and highlight each project.
Networking
Expand your internship options by networking.
Join an architectural group such as the American Institute of Architecture Students. There likely are local chapters in your area. If there isn't one, consider starting one. Check to see if your architecture program has its own networking group.
Use word of mouth to let peers, instructors and members of your networking organization know you are looking for an internship.
Research Internship Opportunities
Check the school job boards to find architecture internships.
Check the job boards of architectural organizations such as the American Institute of Architects. There may be a local chapter with its own job board to check as well.
Avoid limiting the search to publicized postings. Get online and research architecture firms that specialize in an area of interest.
Make a list of firms that seem like a good fit.
Send out cover letters, resumes and digital portfolios or a link to an online portfolio. Make sure to research a contact person to send the internship application packet to. This person might be listed on the website or could be a partner in the firm.
Acing the Interview
Thoroughly research the architecture firm you're interviewing with. Take a look at their website, find out what projects they have worked on and get an idea of the company culture.
Arrive to the interview on time but no more than 15 minutes early.
Be prepared with an intelligent list of questions during the interview process. These questions can include the type of expectations the firm has for its interns, what sort of projects might be part of the work and what potential there is for future growth or a permanent position with the firm.
Take cues from the interviewer as to how much input to give, but be proactive in explaining the portfolio.
Follow up the interview with an email thank you to the interviewer, stating your interest in the internship and why you would be a good fit for the company.
Items you will need
Computer

Layout Software Program

Internet Access

Notepad

Pencil
Tips
Create a PDF format portfolio to submit to architecture firms when seeking an internship.

Create a hardcopy portfolio to bring in person for the interview process.
Photo Credits
Jupiterimages/Photos.com/Getty Images