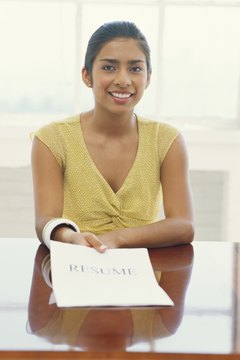 A well-written resume is your golden ticket to an interview. Learning to write a resume that demonstrates your unique talents, explains your applicable experience and catches the interviewer's eye can certainly land you a job interview, if not the job itself. Whether you are starting a resume from scratch or updating it for what feels like the hundredth time, writing a winning resume is easier than you may think.
Create your resume header with your name, mailing address, phone number and email address. Your name should be bigger and bolder than the contact information. If you choose a creative heading, such as a monogram logo or a graphic, keep it simple and professional. Don't add clutter to your resume.
Put a "Summary of Qualifications" section underneath your header and contact information. This section gives a brief overview of the skills and experience you have that are applicable to the job. Use a bullet list of brief sentences to describe your qualifications.
Include an "Education" section. Type the names of your schools or colleges, when you graduated and any diplomas or degrees you earned. Note any scholastic achievements you earned as well, such as graduating with honors, being nominated as class president or making the dean's list each semester.
Brainstorm information for your "work experience" section. Jot down all past work experiences that pertain to the job to which you're applying.
Include the applicable jobs from your brainstorming in your resume. Write the name of your employer and your job title, along with the dates you worked with the employer. Use a bullet list of brief sentences to list your responsibilities on the job. Describe your on-the-job achievements. For example, include achievements such as the time you saved an employer money or overcame a difficult job task that required creative thinking on your part. Repeat this in chronological order for each job position.
Make a "Specialized Skills" section in which you list computer programs you know how to use and abilities you have that might relate to the job. You may also create a section for volunteer organizations or other activities you participate in.
Tips
Promote skills you enjoy using.

Print your resume on professional-grade paper.
Warnings
Don't write a "tell all" resume; keep the resume concise by mentioning what is relevant to the job position.

Don't lie or exaggerate when writing your resume; never write anything that cannot be substantiated later.
Photo Credits
Stockbyte/Stockbyte/Getty Images