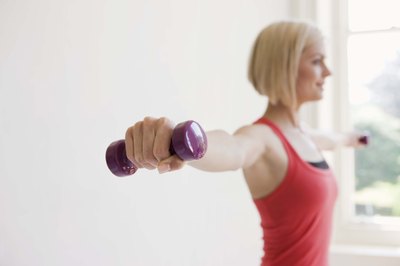 While hopping on the treadmill or going for a morning jog might be more up your alley in terms of exercise, you're not going to gain muscle mass with a cardio routine. Performing compound free weight exercises such as squats, lunges, bench and military presses, gets multiple muscle groups involved in your workout and will help you gain muscle faster than isolation exercises, according to fitness trainers Joe Baur and Conor Doherty. Your body should operate like a well-oiled machine, not a clunky collection of spare parts.
Compound Upper Body Workout
Perform six to 12 reps of each exercise, beginning with the barbell military press. Hold the bar with an overhand grip at chest level and lift it above your head, then lower it to the front of your neck and repeat. This exercise targets your pectoralis major and minor, as well as your anterior deltoids.
Work your anterior deltoids and traps with the dumbbell Arnold press. Position the dumbbells at shoulder level with palms facing in, then bring your elbows out to the sides and raise them, extending your arms overhead before returning to the starting position.
Do barbell bench presses to target your pecs and triceps. Using a wide overhand grip, remove the barbell from the rack and lower it to mid-chest. Press the bar up until your arms are fully extended. Return to your starting position.
Compound Lower Body Workout
Perform six to 12 reps of each exercise, beginning with the barbell squat. Position the barbell on the back of your shoulders and grasp the bar to the sides. Lift the barbell from the rack and stand with an even stance, then bend your knees forward and allow your hips to bend behind you. Lower yourself until your thighs are parallel to the floor, then extend your knees and hips until you're upright and repeat. Barbell squats will work your glutes, quads and abductors.
Walk your way through a set of dumbbell lunges, which target the same muscles as squats. Stand in an even stance, then step far out in front of you with one leg, holding your dumbbells at chest level or higher as you lower yourself down on your front leg. Your back knee should be nearly touching the floor. Rise up and step forward with your other leg. Perform lunges for a set number of reps or until you're too tired to do anymore.
End your lower body workout with dumbbell calf raises. Stand with your feet a few inches apart and rise up onto the balls of your feet, holding your dumbbells at chest level. Perform calf raises for a set number of reps or until you're too tired to do any more.
Tip
To maintain muscle growth and development, consume more calories and protein to supplement your workouts.
Warning
Performing the exercises with proper form is important to minimize the risk of injury. Make sure you get plenty of sleep and take two recovery days between strength-training workouts to allow your muscles to relax and heal. If you have joint problems, consult your physician to see whether or not resistance exercises are safe for you.
Photo Credits
Jupiterimages/Polka Dot/Getty Images