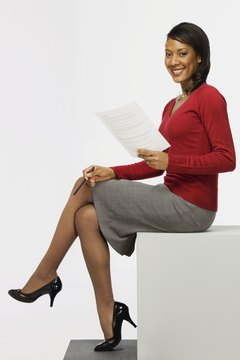 When an organization is hiring for a job position, it has specific criteria it wants in its job candidates. Much of this criteria is listed in the actual job posting, including the exact skillset the employer is looking for. Match up your skills with the requirements listed in the job posting. This empowers you to create a skills section on your resume that demands the employer's attention and might land you an interview.
Position the skills section near the top of your resume. A good place to put the section is right underneath your professional summary or objective. By placing your skills section up top, employers can quickly glance at your skills for keywords relevant to the job position you are applying for.
Type your skills in list form with bullet points, instead of writing complete sentences in paragraph form. Resist the temptation to be wordy. Short key-phrases are sufficient.
Determine which key phrases to use by referring back to the skills listed in the job announcement. This ensures that all applicable skills are listed. An example of skillsets that are often mentioned in job postings include oral and written communication, time management, problem solving, organization, data entry, interpersonal, intrapersonal and specific computer software programs.
Preserve space by typing your skills list horizontally, instead of vertically. Listing your skills vertically increases resume length.
Format your skills list by placing a comma or a bullet between each skill.
Photo Credits
Jupiterimages/Comstock/Getty Images