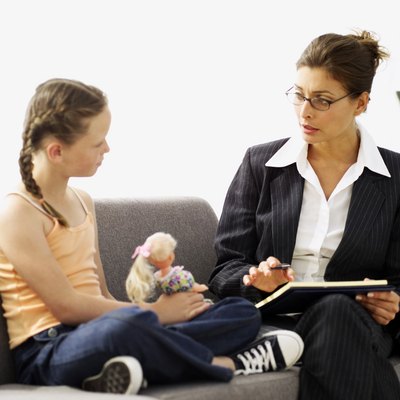 The job outlook for psychologists is pretty good, expected to grow about 22 percent a year at least through 2020, according to the Bureau of Labor Statistics, so it might be a good time to step out and start your own practice. To work in private practice, you'll need a master's or doctoral degree, an internship or a couple years' experience and whatever license your state requires. And then you'll face the competition from your peers, because more than half of psychologists work for themselves, according to the American Psychology Association.
Get your feet wet first in an agency, hospital or established group practice to learn the ins and outs of running a business. It also will give you time to figure out what specialty you want to practice, make important contacts and earn the money you're going to need to get through the start-up of your business. The Bureau of Labor Statistics reports that median income of psychologists in 2010 was about $68,640.
Take a class at the local community college or through SCORE to learn the basics of building and growing a business. You'll have record-keeping requirements, tax obligations, fee structures, financing and marketing plans to build -- all due while you're seeing a growing clientele.
Watch for trends in the mental health industry. The APA says you'll make more money if you find a popular niche, and it will be easier to stand out in the fray when you offer services to a special population. Consider specializing in one area such as substance abuse or other compulsive behaviors, marriage counseling or child psychology.
Make yourself visible in the community to draw attention to your practice. Join associations and networking groups to meet doctors, social workers and other clinicians who can make referrals. Offer to speak at workshops and community events. Build an online presence by creating an active website where you answer questions or run a weekly blog. Post your entries on social media sites, too.
Set up an office where you'll see clients. If you use your home office, be sure to have a separate, private entrance. Hire staff if you expect to get busy right away. Look for a receptionist who can pull double duty as a bookkeeper.
Tip
Consider starting out part time to ensure you have enough income to support yourself while you build a clientele. Work part time at an agency while you start taking on private referrals. Set up a completely separate source of referrals from the agency's to avoid any conflict of interest. As your business builds, reduce your hours until you're completely full with private practice clients.
Warning
While you're working with other professionals, it's easier to maintain professional boundaries with your clients and find the support you need when an issue arises. In private practice, you don't always have that luxury, so you have to be especially vigilant about maintaining professional boundaries to avoid lawsuits and complaints about anything from misconduct to breaching confidentiality.
Photo Credits
Stockbyte/Stockbyte/Getty Images