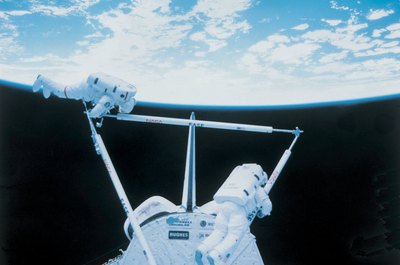 Teaching programs, apprentice training and internships recruit people by enrollment, but the space program doesn't send representatives to college career fairs with astronaut sign-up sheets. That doesn't mean, however, that you can't apply to join the National Aeronautics and Space Administration's Astronaut Candidate Program. Qualified candidates must hold college degrees in select educational fields and also have jet pilot experience. NASA's application requirements also look for a doctoral degree and classroom teaching experience. Astronaut candidates must also between 62 and 75 inches tall -- without space boots.
NASA's selection process is extremely competitive
Review your qualifications against the job requirements listed by NASA as essential for selection to the astronaut program. The program requires a minimum of a bachelor's degree in specialized areas of science, engineering or mathematics, 1,000 hours commanding a jet aircraft, distant and near visual acuity and normal blood pressure.
Search the USAJobs.gov website for astronaut job postings. NASA posts openings "on an as needed basis," according to the Astronaut Candidate Program website. The USAJobs.gov website offers a feature to notify you when NASA posts new jobs.
Download copies of either the civilian or active-duty military application from the USAJobs.gov website and collect the required materials, including college and graduate transcripts, to upload with your application.
Request any required supplemental application forms following the directions posted on the job vacancy announcement. Active-duty military applicants must request supplemental application forms from supervisors of one of the five military branches.
Complete the civilian or active-duty military application using the USAJobs.gov website and file the forms with the Office of Personnel Management using the website. File any required supplemental forms according to the directions listed on the form preparation materials.
Submit any additional information or forms requested by the Office of Personnel Management.
Arrange a preliminary flight physical when requested by the NASA Astronaut Candidate Program.
Attend the candidate training and submit to the evaluations at the Johnson Space Center's Astronaut Office in Houston, Texas. This job evaluation period takes approximately two years to complete and includes military water survival training, SCUBA certification, extra-vehicular activities and International Space Station systems training. Members of the military accepted as astronauts accept assignments at NASA for a tour of duty and civilian applicants become federal employees. NASA may appoint civilian candidates not accepted as astronauts to other agency assignments.
Tip
Some private engineering and space-exploration programs hire private astronauts, but private agencies may or may not have the same training and experience requirements as NASA.
Warning
Prepare your application methodically and carefully follow the directions. The astronaut program receives numerous applications from highly qualified professionals, and the program has fierce competition for limited openings. NASA selected less than two-dozen candidates from the 6,300 applications submitted for the 21st program class in 2012.
Photo Credits
Digital Vision./Valueline/Getty Images