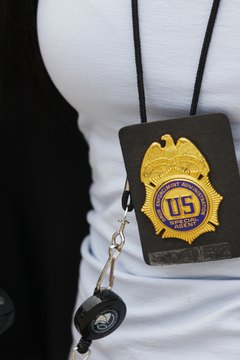 Part of the United States Department of Justice, the Drug Enforcement Administration (DEA) enforces all the controlled substance laws and regulations in the U.S. Along with enforcing laws, the DEA brings drug dealers, manufacturers and distributors before the appropriate court and legal systems for prosecution. The DEA also creates and runs programs to educate the public about the use of illegal drugs and curb the availability of illicit controlled substances. As of 2010, women DEA agents numbered only 450, compared to 4,800 men, but the DEA strives to continually add more female agents. The path to being a DEA agent involves intense training and rigorous preparation.
Visit your local DEA recruitment office. Potential DEA agents should also take part in a Special Agent applicant orientation session at a field division office location. (Reference 4) Applicants who do not live within reasonable distance of a field division office can request a phone orientation. A list of field division offices and recruitment offices are available online at the DEA website.
Fulfill initial qualifications. DEA agents must be between the ages of 21 and 36, be a United States citizen, hold a valid driver's license and be willing to relocate to anywhere in the U.S. where a DEA office is located.
Possess a bachelor's degree or proper experience. The DEA requires agents to hold at least a bachelor's degree with a 2.95 grade point average. For those applicants without a bachelor degree in a related field, the DEA also accepts previous experience in drug-related investigations, surveillance and undercover work. The DEA also gives special consideration to those applicants with special skills in areas like military, accounting, aviation, engineering and a foreign language.
Fill out the drug questionnaire. The DEA requires all applicants to fill out a drug questionnaire that asks the applicant to indicate when, if applicable, they last took any illegal drugs. Each applicant must also submit a urinalysis drug test.
Take part in a written assessment and panel interview. Each field office conducts its own assessments and interviews with candidates. Applicants should provide examples from previous work and personal experiences to show they possess certain skills, including written and oral communication, decision-making, integrity, flexibility, teamwork, technical aptitude and self-management.
Pass physical task test and medical examination. Because of the rigorous nature of the job, a DEA agent must be in peak physical condition and pass a physical task test, consisting of pull-ups, sit-ups, push-ups, shuttle run and a 2-mile run. The fitness task test protocol differs slightly for women. For example, for the pull-up test, the pull-up bar is mounted out of reach for the men and three feet from the floor for women, with women starting the pull-up lying on their back. DEA agents must be able to lift 45 pounds or more. Additionally, DEA special agents must have perfect hearing without the help a hearing aid, perfect 20/20 vision and normal color vision. A DEA agent may have corrective lenses.
Obtain Top Secret security clearance. Along with gaining security clearance, an agent applicant must undergo a polygraph examination, psychological assessment and full background investigation.
Complete basic agent training. The 18-week program includes an 84-hour physical fitness and defensive tactics regimen, 122 hours of firearms training and academic sessions. Participants must receive an 80 percent or better on all academic tests, pass the firearms qualification test and pass physical task tests.
Items you will need
Driver's license

Bachelor's degree
Photo Credits
Eric Kayne/Getty Images News/Getty Images