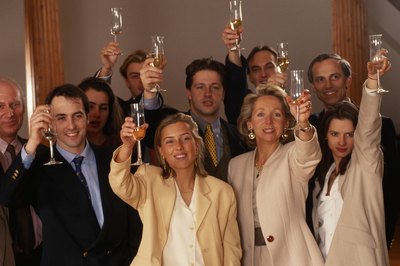 Forming lasting relationships is critical to your success in business. As an employee leaves your company, take the time to genuinely express your gratitude and best wishes. This employee can be an important contact in the industry, or -- even in retirement -- a valuable advisor. Going away parties in the office are often popular for the refreshments or break from work; take care to make sure the employee that's leaving gets your focus.
Involve the departing employee in planning any outings or events. This helps keep in mind -- for you and them -- who the event is for. The employee may find a small lunch with a group of close co-workers preferable to an office party. This is more personally effective and can help save costs.
Customize any commemorative item to the employee's taste, with thought to something they will actually use. A customized coffee mug may make the time with the company much more memorable than a standard placard. Consider also a quality coffee table book with personal messages from other employees.
Share with other employees the accomplishments of the departing employee. Allow them to share their reflections. Taking the time to chronicle their accomplishments allows the departing employee to know you put in the personal effort to see them off.
Follow up with the employee a few weeks after they have left to see how they're enjoying retirement or getting along in a new job. This helps keep connections alive and lets the employee know that they aren't out of mind now that they have moved on.
Photo Credits
David De Lossy/Photodisc/Getty Images