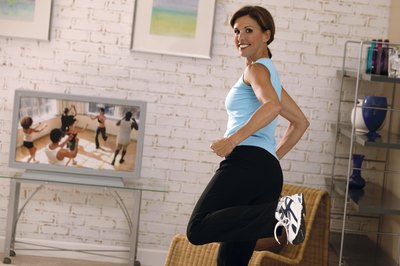 Have you considered ditching your gym membership but lack an in-home treadmill? Fret not, for even a moderate in-home, treadmill-less jog relieves stress by increasing mood-boosting endorphins. And, if you trek along at an easy 5 miles per hour, you can burn more than 600 calories per hour. If you're running inside, you're unlikely to log high speeds, so aim for a longer run. Running's also an ideal cardio activity for losing excess weight and maintaining a healthy weight -- just take precautions. Check with a doctor before beginning a new exercise program and if you experience concerns along the way.
Find a level, nonslick surface on which to run. A debris-free running area -- in the home or outside -- is best for avoiding accidents. Run in a well-lit room or on a well-frequented path if you choose to run outside. Avoid rugged trails with overgrowth, as these can obstruct your view, or trails that are littered with fallen branches.
Tone your calves and glutes, and burn 550 to 700 calories an hour with stair sprints. Taking your household staircase -- or a set of bleachers -- also firms the abs, quads and hamstrings. Add a pedometer to track your distance and calories burned. Go simple or elaborate with models that download data to computer tracking programs, or opt for a handy Smartphone app to monitor your mileage, steps and calories burned.
Go for an in-home game system. Fun and engaging fitness games are available, and many systems now offer in-place running programs. Games track calories burned and distance traveled as you run in-place and watch your avatar mosey along on the in-game track. Switch channels and watch television, and the games continue tracking your progress. Don't skimp on supportive footwear because you're running inside. Be fitted at a store specializing in running shoes. Shoes need to fit comfortably and securely, with a half-inch space between your toes and the shoe's front.
Give minimalist footwear a chance. A debris-free, asphalt-free and pothole-free surface is ideal for trying out the soft, ultra-thin footwear. Try "toe shoes" on an indoor, nonslick surface before trying an outdoor run. Be careful, warns Dr. Edward R. Laskowski. Barefoot shoes may increase your chances of foot injuries. Dr. Laskowski suggests checking with a doctor before using this trendy footwear.
Strap on 1- to 3-pound wrist weights to raise your heart rate. Skip ankle weights as you wear down the home hardwood, as they can add to potential injuries. Add more props, like wrist pedometers that can stand up to the elements if you decide to take your run outside.
Tip
Work toward a weekly goal of 150 minutes of moderate in-home or outside running. Add twice-weekly strength sessions for a balanced fitness routine, and naturally increase your energy and get a better, restful night's sleep.
Warning
Stop and rest if you experience pain or discomfort and, if needed, see a doctor.
Photo Credits
Comstock/Comstock/Getty Images