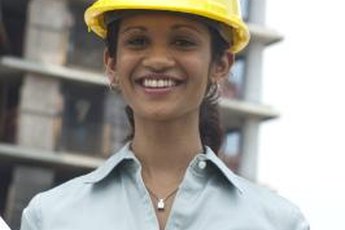 i
Comstock Images/Comstock/Getty Images
You may or may not get to wear a snazzy orange vest, a la grade school crossing guard, but like those who help their peers make it into the classroom unscathed, workplace health and safety officers ensure that their colleagues are safe on the job. Safety is a serious business. Those responsible for maintaining it implement the Occupational Safety & Health Administration regulations, and make sure their work environment complies with state, Environmental Protection Agency and Department of Transportation guidelines.
Duties
The specifics of the role are largely defined by the nature of the job. An office workplace safety officer has a different set of responsibilities than her counterparts at agricultural, industrial or medical job sites. Regardless of where she works, the safety officer might lead a safety committee, coordinate government or insurance related inspections, investigate accidents, or train other employees in safety procedures, making sure they have the proper gear. She also often monitors air and water quality, trains co-workers in emergency response and preparedness, and tests equipment for safety.
Training
The road to becoming an occupational health and safety officer often begins inside the workplace with on-the-job training for an employee who might be adding safety officer to her existing responsibilities. Though the position may not be a self-contained job, safety officers often must enroll in formal training and classes outside the workplace. Required courses range from handling hazardous materials to environmental safety, disaster or emergency preparedness and response. You can take classes on handling chemicals, blood borne pathogens, and many other topics to satisfy OSHA certification criteria, or get a broader, more in-depth education in a bachelor's or master's degree program.
Special Skills
This job takes strong interpersonal and communication skills. Safety officers work with everyone from the janitor to the CEO, educating the entire workforce on safety practices. Bring top notch organizational skills and computer savvy to record, file and track test results for anything you implement. Be prepared to sometimes work long hours. Because safety officers often have another primary role, getting the job sometimes makes for long days.
Job Outlook and Pay
The U.S. Bureau of Labor Statistics projects average job growth, about 13 percent, for occupational health and safety technicians between 2010 and 2020. In May 2012 the median annual wage was $47,440 with the top 10 percent earning more than $75,000 annually and the lowest 10 percent making less than $29,000, the bureau reported. The market looks most promising for health and safety technicians who have the broadest safety knowledge along with general business skills.
References
Writer Bio
Based in Portland, Ore., Holly Goodman began writing professionally in 1991. Her articles have appeared in "The Oregonian," "Dog Fancy," "High Times," First Wives World and on YouTango.com, among other publications. Her fiction has appeared in "The Journal" and at Literary Mama. Goodman has a Bachelor of Arts in journalism from The Ohio State University.