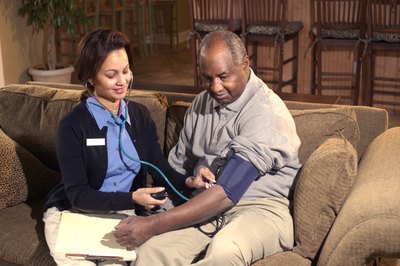 For the nearly 12 million women in America with diabetes, getting proper care for their condition can improve their quality of life and can even mean the difference between life and death. Women make up half of all diabetes sufferers in the United States and nearly one-quarter of diabetes patients do not even know they have the disease. Providing a key service to diabetes patients, diabetes specialist nurses undergo special training that educates and prepares them for a role as a diabetes specialist.
Specialized Training
Before working as a diabetes specialist, a nurse must complete certain training and educational requirements. The educational path starts with a bachelor's degree in nursing, followed by taking and passing the National Council Licensure Examination. A nurse may practice as a diabetes nurse, but to advance in her career she must earn an advanced degree and certification. Once a diabetes nurse has earned a master's in nursing and completed 500 professional hours in diabetes nursing, she may apply for certification through the American Association of Diabetes Educators and obtain the Advanced Diabetes Management Certification.
Patient Care
Like other nursing disciplines, the main role of a diabetes specialist nurse is to provide specialized care to diabetes patients. Duties include monitoring a patient's blood sugar, minimizing diabetic nerve damage, providing pre-operative care and performing physical examinations. The diabetes specialist nurse relays information between the patient and his endocrinologist, family and other healthcare providers. Along with diabetic care, the nurse provides general care, such as taking vital signs, answering common medical questions and coordinating patient care with other providers. Other patient care duties include interpreting diabetes tests, such as resting metabolic rate and ankle-brachial index, and adjusting a patient's insulin as needed.
Education
A diabetes specialist nurse acts as an educator to her patients and also to the general public. She teaches patients how to monitor their blood sugar at home, administer insulin and counteract blood sugar spikes. She also teaches patients how to choose a proper nutritional plan, set up a safe and effective workout regime, and make healthy lifestyle choices. For the general public, a diabetes nurse runs informational and educational workshops on diabetes management and prevention, through her employer or other diabetes-related organizations.
Advocate
Because of the nature of the job, sometimes a diabetes specialist nurse will become so involved in diabetes treatment that she develops a passion for diabetes awareness. A diabetes specialist nurse acts as an advocate for the diabetes community, promoting diabetes awareness among the general public. A diabetes specialist nurse may join a lobbying group to influence public policy and garner government funds for diabetes projects. Some diabetes nurses work with non-profit diabetes groups, such as the American Diabetes Association, providing education and advocate services.
Photo Credits
Thinkstock/Comstock/Getty Images