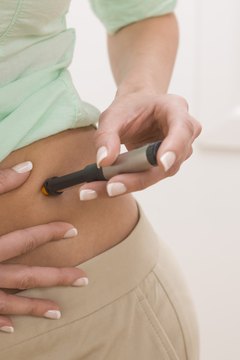 The nursing profession has become highly specialized in the 21st century. The basic division of licensed practical nurses and registered nurses has expanded to include a range of other nursing professionals including critical care, geriatrics, pediatric, oncology and rehabilitation, as well as advanced practice nurses such as nurse anesthetists, nurse midwives and nurse practitioners. Diabetes nurses, frequently called diabetes nurse educators, typically are nurse practitioners with a graduate-level education. These highly-trained health care professionals work closely with patients to help them understand how to control their diabetes. They teach all aspects of diabetes management, from the importance of healthy eating and exercise to how to monitor blood glucose or take insulin shots.
Complete a bachelor's degree program in nursing or a closely related field. An undergraduate degree in nursing is the basic foundation for all nursing careers, including diabetes nurses. The last year of nursing programs involves practical experience working with licensed nurses in hospitals, clinics and other facilities.
Enroll in and complete a master of science in nursing or other nurse practitioner master's degree program. Diabetes nurse educators typically earn degrees with specializations enabling them to work professionally as family nurse practitioners or public health nurse practitioners.
Complete all licensing qualifications to practice as a nurse practitioner in your state, and work for at least two years to gain the required experience to become a certified diabetes educator. Although it is not always required, employers generally prefer diabetes nurse educators who are certified diabetes educators.
Take and pass the certified diabetes educator exam offered by the National Certification Board for Diabetes Educators after you have at least two years of professional experience. In addition to the education and discipline requirements, you also must have 1,000 hours of diabetes self-management education and 15 hours of continuing education in your discipline within the past two years to qualify to sit for the certified diabetes educator exam.
Photo Credits
Creatas Images/Creatas/Getty Images