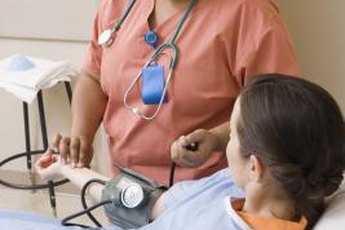 i
Jupiterimages/Creatas/Getty Images
Nurses who hold a certification in chemotherapy make up an integral part of an oncology team, which is a group of medical specialists who work specifically with cancer patients. Becoming certified is a voluntary process that represents professionalism and ensures that a nurse possesses the skills needed for the job. As a chemotherapy nurse, you'll both enjoy the rich reward of seeing a patient triumph over cancer and endure the tragedy of watching someone succumb to it. It's your job to make sure patients get the best care and are as comfortable as possible during this unpredictable and emotional process.
Work Duties
A chemotherapy nurse, who is first a registered nurse, is beside cancer patients throughout their treatment. She educates patients about their sickness and explains procedures. Administering the chemotherapy may be another of her duties, along with creating a medical plan for controlling and fighting the cancer and pain. She also acts as her patients' ally and advocate. Her patients are going through a terrifying time with an uncertain outcome, and the reality is that some don't survive treatment. The nurse must be strong, compassionate and sensitive to each patient situation.
Post-Secondary Education
To become an RN, get your high school diploma and enroll in a nursing degree program. Associate degrees take about two years to earn if you're going to school full-time, and a bachelor's degree take about four years. This is over and above the amount of time you'll have to put into taking prerequisite courses before you can enter nursing classes. After graduation, you must pass the National Council Licensure Examination for Registered Nurses, or NCLEX-RN, to become registered and licensed.
Certification
Many organizations offer nursing certification in chemotherapy, and the exact requirements for certification depend on the organization you apply to, says the Oncology Nursing Certification Corporation. For example, the Oncology Nursing Society is an accredited continuing education provider that offers certification in chemotherapy. You have to have worked as an RN for at least six months before you can enroll in the two-day chemotherapy-biotherapy course. The course is followed by an exam.
Renewal
Being certified is an elevated standard of professionalism for the RN who carries it. Once you've earned it, you're committing to continuing your education to uphold those standards. A certification awarded by the Oncology Nursing Certification Corporation is good for four years. Certified nurses need to apply for renewal several months before their certification expires. If your certification does expire, you'll need to meet the same eligibility requirements as a first-time applicant and retake the test.
References
Writer Bio
Brooke Julia has been a writer since 2009. Her work has been featured in regional magazines, including "She" and "Hagerstown Magazine," as well as national magazines, including "Pregnancy & Newborn" and "Fit Pregnancy."