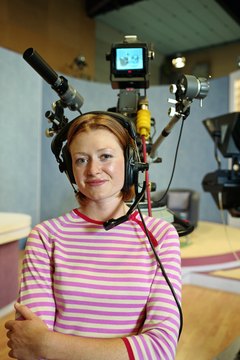 If you think it's easy to record the activities and emotions of real-life people, think again. Being a documentary producer involves many responsibilities and a lot of hours doing tedious tasks. Part journalist, part filmmaker, documentary producers are creative professionals who need skills in planning, managing staff, and following a creative vision.
Funding
Before the production phase, the producer must find the money to make the movie happen. The means developing a budget that factors in the crew and equipment needed. On larger-scale documentaries, the producer may work with studio executives to develop a budget and concept that the studio will support. On independent productions, the producer may approach companies or foundations for financial support. She may evenr conduct a fundraising campaign to get the money she needs.
Planning
While documentaries often tell an evolving story, a lot of forethought goes into the production. Producers often work with the director to develop a basic storyboard for the documentary, coming up with a list of people to interview, places to shoot, and crucial events or archive footage that will need to be included. In some cases, the producer serves as both director and producer -- or their title is simply "director" and includes all producer responsibilities. In any case, the person in that role needs to acquire the cameras, lighting and transportation. She also recruits camera operators, editors and other crew members.
Production
Following the planning, the producer serves as the manager or "overseer" of the production phase. This involves making sure that all crew members have the materials and knowledge they need to do their jobs. Documentary producers need to be flexible, as stories can evolve and take on new dimensions throughout the interview and shooting phase. During production, a producer may double as an interviewer, conducting on-camera or research interviews that will contribute to the content of the film.
Post-Production
Following the shooting phase, the producer often works closely with the editors, graphics artists and other post-production crew members to ensure that the vision for the project matches the final product. After all interviews and shots are gathered, someone needs to transcribe what was said and compile the actual material into a script that the editors can use to assemble all the pieces of the film. Depending on the crew size, the producer may do that job as well as serving as editor. Or, she may sit at the editor's side to guide the process. When she has a finished product, the producer will work on distributing and promoting the film, including developing a website, sending out press releases and scheduling screenings.
Photo Credits
Digital Vision/Photodisc/Getty Images