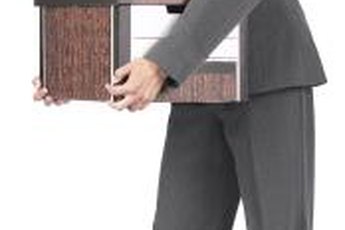 i
Hemera Technologies/PhotoObjects.net/Getty Images
Filing for unemployment may be the only option for a person laid off from her job, but it puts her in a vulnerable position. She will have to answer personal information related to unearthing possible benefits for her claim, as well as provide proof of unwarranted termination or termination due to company faults. She will also have to continue to look for work, provide updates of any wages earned and answer weekly or bi-weekly claims.
Why Were You Terminated?
It's likely the first question asked of the applicant is the reason for her termination. The answer to this question deems eligibility for benefits, as unemployment services are given to people laid off through no fault of their own rather than given to people who willingly left their job. Furthermore, follow-up questions regarding a person's job history may be necessary to qualify for unemployment benefits.
Tell Us About Yourself
Unemployment applicants must provide relevant personal information, including home address, former employer address and Social Security number. Correct and complete information of information is needed to make sure the claim isn't delayed. The address of the employer is necessary in deeming the responsible state, as claims filed in states other than the one where the applicant was terminated may not be responsible for benefits. Social Security is necessary for tax purposes, and to verify the applicant's citizenship.
What is Your Work Status?
The work status of the person in question will need verification. The questions asked of the person filing the claim will seek to identify whether she is a U.S. citizen, requires a work permit or visa, and if she is capable and willing to get back to work. Applicants with visas are not eligible for benefits in most cases, neither are those with work permits and/or on disability. Applicants may also be asked to register with the State Employment Service to find work.
How Much Did You Earn?
The wages the applicant was receiving at her former employer will determine the amount of benefit she is eligible for, if any. The state will ask how much the applicant earned during the calendar year, as well as use information from the applicant's taxes. Even after approval, the person receiving unemployment benefits will have to answer further questions regarding her earnings during the benefit period.
References
Resources
Writer Bio
Johnny Kilhefner is a writer with a focus on technology, design and marketing. Writing for more than five years, he has contributed to Writer's Weekly, PopMatters, Bridged Design and APMP, among many other outlets.