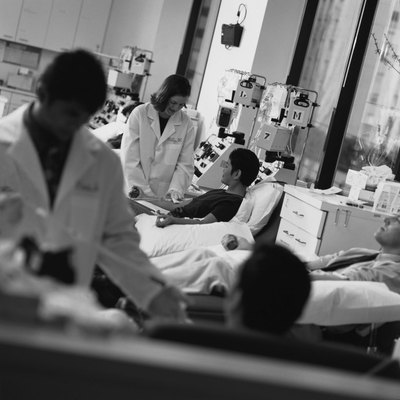 If you've ever given blood for donation, medical testing or transfusion, you encountered a phlebotomist. Phlebotomists must be friendly so that patients will feel comfortable giving blood, which can be painful and a little scary. Think about it -- would you let a grumpy woman with a needle anywhere near your arm?
Prerequisites
You must have a high school diploma or GED for admission to phlebotomy training programs. Subjects that will help you prepare for this career include biology, health, communication and English -- you should also brush up on your foreign language skills, since working in the health industry might require you to talk to people from different backgrounds. Some phlebotomy programs have testing requirements, as well. Lane Community College in Eugene, Oregon, for example, won't accept students unless they've scored well on math and reading tests.
Education and Training Program
Phlebotomy programs are usually offered through vocational schools and community colleges. Courses last around five or six months; students learn about human anatomy and medical terms, how to collect, store and handle blood samples, and the measures needed to ensure a safe work environment. Some programs also offer non-science courses, such as communication, psychology and computer technology. Classwork is typically followed by a period of supervised clinical practice at participating hospitals or clinics.
Certification
Most employers prefer to hire certified phlebotomists, although certification isn't required by any state or national entities. Voluntary certification is offered through a few independent agencies, including American Medical Technologists, American Society of Clinical Pathologists, National Healthcareer Association and the National Center for Competency Testing. To get certified, you must provide transcripts from your phlebotomy program and proof of successfully completing your clinical practice. You also must pass a certification exam. For example, the National Phlebotomy Association requires certification applicants have at least 200 hours of experience and training. Your training must include 25 skin punctures and 100 venipunctures. Applicants also must pass a test with a score of at least 70.
Personal Requirements
There are also a few personal requirements phlebotomists need in order to succeed at the profession. They should be gentle, compassionate, reassuring and good listeners, with strong attention to detail.
Photo Credits
Keith Brofsky/Stockbyte/Getty Images