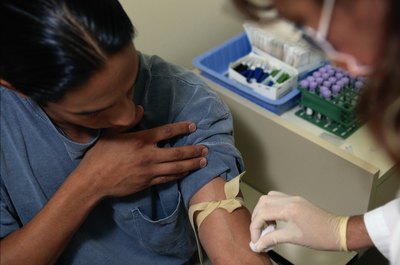 Phlebotomy technicians, commonly referred to as phlebotomists, are medical laboratory technicians who specialize in collecting blood samples. They are trained in a variety of collection techniques including skin puncture, venipuncture and micro-puncture. You can obtain the training necessary to qualify as a phlebotomy technician at many community colleges, technical schools or through classes offered by the American Red Cross.
Training for Individuals
If you have no previous medical training, but you're interested in joining a health care team as a phlebotomist, an American Red Cross Phlebotomy Certificate Training Program might be your best option. You'll receive both theoretical instruction and practical experience through classroom lectures, laboratory training and clinical work. Coursework includes instruction in anatomy, physiology and medical terminology in addition to specimen collection, blood-borne illnesses, safety, analysis and equipment.
Training for Health Care Professionals
If you are already working as a health care professional, but want additional training in blood collection, you might consider the American Red Cross's 20-hour training program for medical professionals. This classroom-only course is designed to give you the theoretical and practical skills required for entry-level phlebotomy work.
Training for Rescuers
If you work as a rescuer or first responder, you might want to participate in the Red Cross's more extensive EKG Technician and Phlebotomy Training Program with CPR for the Professional Rescuer program. This course combines electrocardiograph recording training with blood collection techniques, skills and equipment training, leading to professional credentials as a Certified EKG AED Technician and Certified Phlebotomist.
Prerequisites
All levels of American Red Cross phlebotomy training require candidates to be at least 18 years old, have a high school diploma or educational equivalent and be in good physical health. You might be required to furnish documentation of a recent physical examination. Professional courses might require proof of state licensure or a background check. The cost for training depends on the type of course and the location. For example, the Phlebotomy for Medical Professionals Program offered by the New Hampshire Regional Chapter of the American Red Cross costs $585 while the Phlebotomy & EKG Course offered by the Red Cross in New Haven, Connecticut costs $900.
Photo Credits
Keith Brofsky/Photodisc/Getty Images