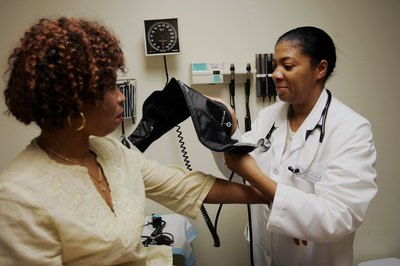 Women are flocking to careers as physician assistants. Some PA programs report that women make up as much as 80 percent of their student base. It's no wonder the field attracts women: It offers both personal fulfillment and job opportunities. PAs provide primary patient care under the supervision of a doctor. As the population ages, PAs will enjoy 30 percent job growth from 2010 to 2020, according to the U.S. Bureau of Labor Statistics. However, taking advantage of that growth requires extensive training. To get into a PA program, you need the right education, experience and skills.
Education
Physician assistant programs require applicants to have a bachelor's degree. They don't insist on a specific major, but they do look for science education. Ideally, candidates have taken at least five biology classes, including anatomy, physiology, genetics, molecular biology or immunology. Some programs consider applicants only if they've completed at least two chemistry courses with laboratory study. Key non-science classes include statistics, general psychology and English. You may also need a minimum undergraduate GPA; a 3.0 or above is standard.
Experience
PA programs don't accept candidates unless they have experience in patient care. Work as a paramedic, nurse, nurse's aide or health educator counts, as does volunteer service with the Peace Corps or any other cross-cultural agency that provides health care. Work as a lifeguard, medical secretary, candy striper or CPR instructor don't count -- nor does job shadowing. Programs typically look for at least 1,000 hours of patient care. They also prefer community service among medically under-served or disadvantaged populations.
Exam
Aspiring PAs must take a postgraduate aptitude test, preferably the Graduate Record Examination (GRE) General Test. The four-hour GRE measures students' skills in verbal reasoning, basic math and analytical writing. However, some programs also accept results from the Medical College Admissions Test (MCAT), which evaluates knowledge of physical and biological sciences and verbal reasoning abilities. Most programs require a minimum score on either test.
Physical Qualities
Training is physically demanding, and schools want to know that candidates can handle the rigors. Students need good eyesight to study anatomical details, such as changes in skin color or findings on X-rays. They also have to be able to see numbers and patterns on diagnostic tests. Strength and coordination are important, too, because students conduct physical exams, insert IV needles, perform CPR, apply pressure to stop bleeding and move patients. Students also need to prove they're current on vaccines against communicable diseases.
Intellectual Qualities
Schools want candidates with sound judgment and reasoning. Candidates need to review patient history, physical exams and lab workups to spot details that point to a diagnosis. Communications skills are imperative as well. Students must be able to speak with patients to get information, and pass along verbal or written reports to the medical team. Maturity and emotional health to handle long hours and the physical and mental stresses of training are also a must. Finally, programs want candidates with empathy for patients, integrity and an interest in helping people.
Recommendations
Applicants typically must submit at least three letters of recommendation. Reference letters from friends or family members don't count. At least two references must be from medical professionals, including doctors or physician assistants.
Photo Credits
Joe Raedle/Getty Images News/Getty Images