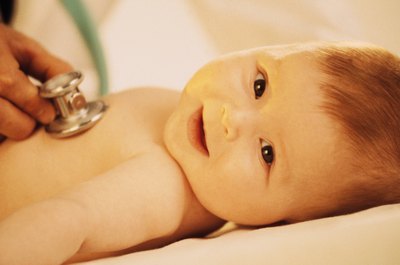 Before embarking on years of college, medical school and residency, it's worth it to stop and ask yourself if you'll actually enjoy working as a pediatrician. The education can be costly and intense, but it's possible to find a rewarding career after you graduate. As a pediatrician, you'll specialize in treating medical issues specific to children, in addition to taking care of the typical bumps, scrapes and childhood illnesses. You get to spend your time with cute kids, and you can also be confident that you'll find a job. The U.S. Bureau of Labor Statistics predicts that employment for all physicians and surgeons will grow by 24 percent between 2010 and 2020, which is faster than average compared to all jobs.
High Rate of Job Satisfaction
If caring for children and young adults sounds like a satisfying career to you, it turns out that most pediatricians think that it is. The American Association of Pediatricians reports that in 2008, pediatrics was the third most-practiced of the top 10 specialties, with about 75,129 physicians. What's more, a 2004 to 2005 survey about career satisfaction revealed that four of the top 10 specialties had to do with pediatrics, namely: Pediatric emergency medicine, which ranked first, followed by general pediatrics, med-peds and other pediatric subspecialties.
Financial Rewards
As with any medical specialty, pediatricians can earn a very comfortable living. They earned the eleventh-highest salary in the country as of May 2011, topped only by CEOs and nine other medical specialists, according to the Bureau of Labor Statistics. Their average salary was $168,650, which works out to $81.08 per hour. As a pediatrician, you could expect to earn the most working in the offices of other health practitioners, where the average salary was $186,090 per year.
Certifications and Advancement
Pediatricians can earn certification through specialty boards, giving them a professional stamp of approval and an additional boost to their long-term careers. The American Board of Pediatrics offers 14 certificates of special qualifications dealing specifically with pediatrics, such as child abuse pediatrics and pediatric pulmonology. You can also earn six certificates of added qualifications that don't have to do specifically with children, but could enhance your practice, such as medical toxicology and sports medicine.
Making a Difference
It's pretty clear that if you're thinking about being a doctor, you want to help people and make a difference in their lives. Caring for patients of any age can be rewarding, since you get to see the concrete evidence of improvement in their health. In addition, the American Association of Pediatrics reports that as of 2010, pediatricians spent 72 percent of their time administering direct care to patients. Other activities that take up the work day were divided between teaching, research, fellowship training and administrative tasks.
2016 Salary Information for Physicians and Surgeons
Physicians and surgeons earned a median annual salary of $204,950 in 2016, according to the U.S. Bureau of Labor Statistics. On the low end, physicians and surgeons earned a 25th percentile salary of $131,980, meaning 75 percent earned more than this amount. The 75th percentile salary is $261,170, meaning 25 percent earn more. In 2016, 713,800 people were employed in the U.S. as physicians and surgeons.
Photo Credits
Comstock/Comstock/Getty Images