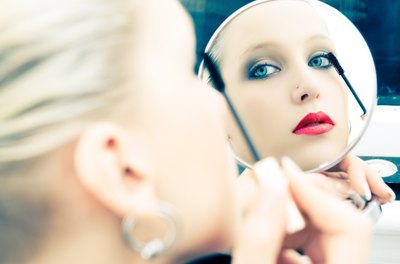 Excessive hair is not considered attractive, especially on women. As females struggle to maintain their appearance, new and innovative techniques have developed to assist with this tedious task. Permanent hair removal technicians work to keep women and men free from unwanted hair, without the continuous burden of upkeep. With an interest in the beauty industry and a willingness to be involved with some hairy situations, you can work as a permanent hair removal technician.
Dollars and Cents
Permanent hair removal technicians are classified as skincare specialists by the employment website, O*Net Online. According to the site, the average salary for these positions is $28,640 per year. Hair removal technicians may work for a specified salary inside of a spa or skincare facility. They also may choose to work independently, setting their own rates for individual clients. The website, Permanent Hair Removal, explains the various fee setting options. While some technicians charge a set fee, others charge based on the amount of hair to be removed. The average cost for a facial hair removal session is $450. Clients must undergo an average of eight sessions throughout the year for permanent results. So, an independent technician may earn thousands of dollars from one customer in a given year.
Where's the Work?
The Bureau of Labor Statistics lists the highest level of employment for skincare specialists in California and Texas. The average salaries in each of these states is higher than the national average. In California, the average salary is $34,600 per year for a skincare specialist. Texas has an average salary of $32,650 per year. Idaho and Alabama are among the states with the lowest number of skincare specialist jobs. Nationwide, major metropolitan areas offer the most employment opportunities. Areas such as Los Angeles, New York City and Boston have high levels of employment for skincare specialists.
Additional Considerations
As a permanent hair removal technician, you are licensed according to the laws in your respective state. While some states only require educational training, others are more formally regulating hair removal techniques, resulting in ongoing training and certification fees. If you are going to work independently, you should consider the cost of your equipment and supplies when setting your fees. Professional hair removal lasers can be expensive, costing as much as $100,000. But many laser retailers offer more affordable rental programs.
The Future
The average job outlook for an industry is 11 to 20 percent during a 10-year period. The outlook for skincare specialists is higher than average, with expected growth of 25 percent between 2010 and 2020. An increased desire for physical attractiveness by both men and women accounts for this growth. As the beauty industry continues to expand, there will be more salons and spas opening, giving you increased opportunities for employment.
2016 Salary Information for Skincare Specialists
Skincare specialists earned a median annual salary of $30,270 in 2016, according to the U.S. Bureau of Labor Statistics. On the low end, skincare specialists earned a 25th percentile salary of $21,960, meaning 75 percent earned more than this amount. The 75th percentile salary is $42,810, meaning 25 percent earn more. In 2016, 61,300 people were employed in the U.S. as skincare specialists.
Resources
Photo Credits
Jupiterimages/Photos.com/Getty Images