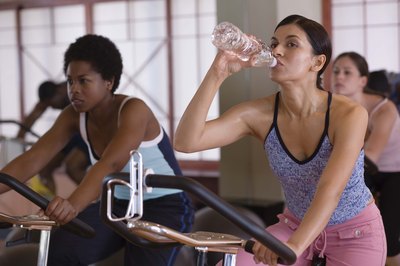 Cardio exercise helps burn that stubborn belly flab and lowers blood pressure, cholesterol and blood sugar. Like everything else, fitting extra activity into a busy schedule seems impossible, and finding an ideal exercise routine can pose a real challenge. According to the American Heart Association, finding the perfect balance between cardio length and intensity can keep you healthy. The recommended 150 minutes of weekly moderate cardio can trim the waist and help you fit back into that sexy dress.
Intensity
Moderate- to high-intensity exercise enhances physical strength and improves athletic performance. High-intensity exercises prove particularly important for losing weight. Swimming, jogging, playing tennis and jump roping are examples of strong moderate- to high-intensity cardio activities. Intensity can be described in two ways -- how difficult an exercise feels and how much the heart rate rises. According to the Mayo Clinic, your perception of an activity reflects your heart rate; how difficult a cardio workout feels to you is a subjective way of determining the intensity of a workout. Intensity can also be counted objectively via heart rate. For a 30-year-old woman, the ideal heartbeat would be about 115 beats per minute for a moderate cardio intensity.
Length of Time
Prolonged cardiovascular exercise increases the heart rate and ultimately strengthens the various arteries and pumps of the heart. The length of exercise is particularly important for cardiovascular and respiratory health. For moderate-intensity cardio activities, the President's Advisory Board for Physical Fitness recommends at least 150 minutes of exercise per week; for high-intensity cardio, it recommends 75 minutes per week.
Priority
A correlation exists between time and intensity. The more vigorous your cardio workout, the less time you have to spend hitting the gym. The reason for this correlation is because both time and intensity exert stress on the heart and burn calories. According to a study involving 10,000 adults and 10 years of data collection, Danish researchers found that intensity may prove more beneficial in fighting off metabolic diseases like hypertension, diabetes and high cholesterol. However, according to Dr. Melina Jampolis, a diet and fitness expert, longer cardio routines may specifically improve the heart's overall health more than high-intensity workouts.
Individualized Cardio Routine
Since working out longer can better improve your heart health, and working out harder can help you lose weight and increase fitness, you should tailor your own cardio routine to reflect your goals. If you're looking for fast results now, focus on high-intensity cardio. If you're looking to prevent potential cardiovascular problems 40 years down the road, focus on longer cardio sessions. For overall fitness and wellness, Dr. Jampolis suggests a cardio routine that implements both long, moderate-intensity sessions and short, high-intensity sessions.
Photo Credits
Jupiterimages/Comstock/Getty Images