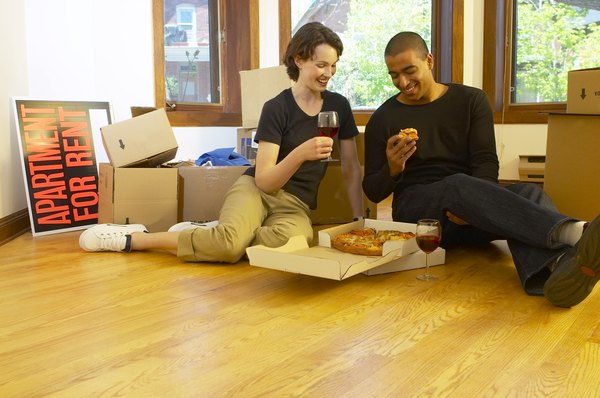 If you've ever rented an apartment or house, you will have come into contact with either a landlord or property manager. You might not have even known which they were -- you just paid your rent to the person who did the initial showing and with whom you signed your tenancy agreement. But there are differences between the two roles.
Property
The landlord is the owner or leaseholder of the property. She is the person who is actually renting you your home, and the person to whom, ultimately, you are paying rent. However, the landlord might not be interested in or able to deal with the day-to-day business of renting a property. In this case, she will engage a property manager to manage the property on her behalf.
Qualifications
You don't need any qualifications to become a landlord. You just need to own a property. If you decide to rent out the property, you might need to go through a licensing process and obtain a business permit. Most states require property management companies to be licensed real estate brokers.
Landlord Responsibilities
The primary responsibility of a landlord is to provide her tenants with a safe, functional living space. Before offering a property for rent, she must ensure that it conforms to local and federal standards of safety and security. For example, all wiring must meet approved standards, and there might be requirements for deadbolts on all external doors. Throughout the tenancy, the landlord must ensure the property is properly maintained. Although requirements vary by the specific lease agreement, landlords are usually responsible for making repairs to the property when something breaks or does not function properly.
Property Manager Responsibilities
A property manager acts as liaison between the owner and the tenant. She shows prospective tenants around the property and screens applications for creditworthiness, criminal history, rental history and ability to pay. She arranges the contract, which is usually based on a standard document, and collects rent on behalf of the landlord. Also on behalf of the landlord, the property manager usually looks after the maintenance of the property, typically within an agreed budget. In addition, she might be responsible for dealing with complaints against tenants.
2016 Salary Information for Property, Real Estate, and Community Association Managers
Property, real estate, and community association managers earned a median annual salary of $57,040 in 2016, according to the U.S. Bureau of Labor Statistics. On the low end, property, real estate, and community association managers earned a 25th percentile salary of $39,910, meaning 75 percent earned more than this amount. The 75th percentile salary is $83,110, meaning 25 percent earn more. In 2016, 317,300 people were employed in the U.S. as property, real estate, and community association managers.
References
Writer Bio
Lalla Scotter has been writing professionally since 1988, covering topics ranging from leadership to agriculture. Her work has appeared in publications such as the "Financial Times" and "Oxford Today." Scotter holds an honors Bachelor of Arts in English from the University of Bristol.