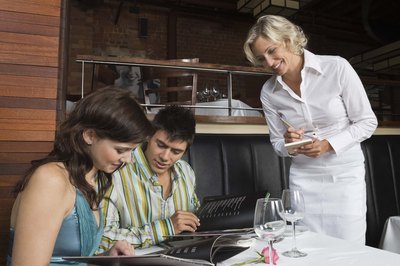 There's more to being a high-quality food server than schlepping trays of food from table to table and refilling soft drinks. When you apply for a server position in the hospitality industry, expect to be judged on your personality -- which should be sparkling -- knowledge and attitude, in addition to your work experience. Restaurant owners want upbeat and personable people who will be reliable, take good care of their customers, and be good representatives of the business.
Background
Whether you have a history of working at greasy spoon diners or posh, upscale restaurants, a potential employer wants to know, so expect questions about your professional background. Highlight roles and responsibilities in previous server positions, and if you don't have a lot of experience as a server, focus on related fields were you have a proven history. For example, if you worked in retail sales or customer service, you can apply a lot of what you learned in those jobs to that of a server position.
Reliability
If you have a habit of strolling into work whenever you feel like it, you're not going to be well-suited to a job in the food service industry. Dependability is essential in the restaurant biz, so expect questions related to how often you call in sick or refuse to stay late if you're needed to cover a shift. Also anticipate queries related to how well you take direction and multitask, and how willing you are to perform "scut" work, like cleanup, when you're between customers.
Customer Service
Restaurant owners are all about cheerful faces and wide smiles -- in other words, they put a high value on superior customer service skills. Emphasize ways in which you put the customer first, making recommendations, providing privacy when necessary, accommodating special requests and otherwise being an advocate for your customers. Expect behavioral-style interview questions where you're asked to describe various situations in past service roles and how you handled them.
Industry Knowledge
Never walk into a restaurant interview and ask the hiring manager what kind of food the place serves. You should already know about the restaurant's vibe and be familiar with its specialties and regular menu items. The more you know about the eatery you're seeking employment with, the better your odds of getting hired. Also be prepared to answer interview questions about different food preparation techniques and mixology, if the restaurant has a bar.
Specialties
If you're interviewing for a job in a Chinese restaurant and you not only know the difference between a char siu and a hoisin sauce, but you can also explain it in layman's terms, you're golden. Impress the hiring manager by emphasizing specialized knowledge you have as it pertains to the restaurant you're interviewing with. For example, if you're familiar with wine, it can be a major benefit, particularly in a fine-dining environment. If you're knowledgeable about how meat is aged, you're a good fit for a steakhouse. Apply your experience and knowledge to the type of job you're seeking.
Photo Credits
Jupiterimages/Goodshoot/Getty Images