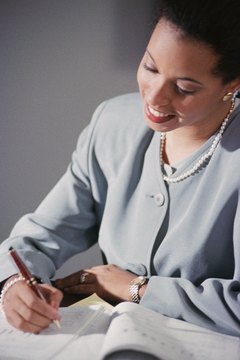 Hiring a grant writer is an important part of successfully pursuing charitable funds. While grant writing is itself a specialized field, many develop their career paths in different ways—and pursue dollars across diverse interests (such as higher education, community health, the arts and human rights). Further, some grant writers focus on private foundations, others are adept at securing public funds; still others seek awards across the full spectrum. In addition, grant writing can occur at multiple levels for organizations with budgets as little as $100,000 to more than $100 million. Despite these variations, there are key elements to include in a job description that capture dominant activities for grant writers as a whole.
Grant Research
A grant writer must be highly skilled at researching grant opportunities, assessing which competitions are a potential fit and presenting options to decision makers. She should review leads on a daily or weekly basis—primarily using Internet searchable or subscription databases—and share synopses for further review, joint discussion and submission planning (as appropriate). Grant research may require the building or maintenance of electronic files and/or data systems.
Grant Writing
Writing proposals is the foremost responsibility. The grant writer first works with key stakeholders to develop concepts that are highly competitive, strategically aligned and financially sound. Next, applications are outlined to specify key requirements, roles and responsibilities, and deadlines. In the most basic form, grants include an executive summary, need statement, project description and budget. A good writer should be able to combine factually supported arguments with emotional appeal, seamlessly tailoring language to both a funder's and organizational priorities.
Grant Reporting
After grant awards are made, reports are generally written to the funder. In some cases, progress is shared on a monthly, quarterly, semiannual or annual basis. In others, a final grant report is submitted at the close of the funding period. When a grant writer develops reports, she must also carefully follow any published guidelines. In addition to summarizing project accomplishments, grant reports should adhere to all legal and financial requirements.
Grant Coordination
Beyond grant research, writing and reporting, the overall process must be coordinated. Most practically, the grant writer will calendar submissions and track both fundraising activities and progress in accountability documents. At times, she will also help to cultivate funder relationships, develop letters of inquiry, send formal funding acknowledgments and engage in ongoing communication with grant officers. In all, she will work collaboratively with other fundraising personnel, program directors, staff and consultants.
Photo Credits
Stockbyte/Stockbyte/Getty Images