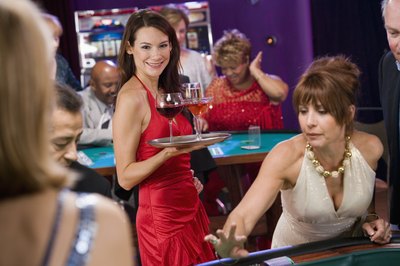 Serving drinks takes a few skills that are different from serving food. For one thing, it's usually more fast-paced and you don't have as many different things to deliver to each table. Instead, it's up to you to keep drink orders straight and deal with customers who may get a little rude or belligerent after a few cocktails. Cocktail waitresses need superior people skills, according to Fox Management, a firm that places Chicago waitresses in local clubs and bars.
Dress for Success
Depending on the club, you may have to wear a uniform like all the other cocktail waitresses. Some joints require the wait staff to look sexy and inviting in a corset, short-shorts and heels. But admit it, sometimes a sexy uniform can help to increase your tips. Other places may just require you to wear a white shirt and black shirt or pants. Either way, it's vital that you're comfortable with the dress code before you take a job. Once you do go to work, make sure your uniform is clean and pressed each day.
Prepare
You need to do more than steel your resolve for the drinking crowd before the club opens. For starters, you need to check your station and make sure your tables have been cleaned and are ready for guests. You can't rely on the previous shift to always do the clean-up precisely. After getting your tables in order the way you like them, get your bank from the manager. Cocktail waitresses often carry around money to make change for customers who don't run tabs.
Take Orders
Once the drinkers start arriving, you're on. It's paramount that you listen closely to the drink orders, because bar patrons can get really picky when it comes to their favorite drinks. They may want a certain brand of vodka, a specific amount of mixer or a variation on a common drink. If there's loud music playing in your club, you may have to lean in to hear the guests' orders. Repeat them back if you have any doubts before turning the orders in to the bartenders. It's also your responsibility in many establishments to check the IDs of patrons who might be under the legal drinking age in your area.
Serving
Once the bartender makes your drinks, it's your duty to serve them to your patrons. Most clubs prefer that you set drinks on a napkin to keep the frost from dripping on patrons' clothes. At that time, you'll either collect for the drinks and make change or put the order on a charge. Some places may add the drink orders to a food order that you or another waitress provides. You might have to run credit cards or place orders at a computer terminal and then present the final check to your guests before they leave.
Photo Credits
Comstock Images/Comstock/Getty Images