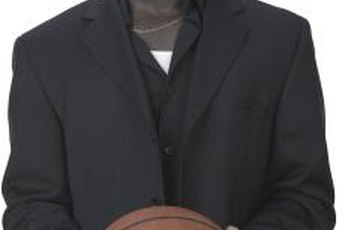 i
Photos.com/PhotoObjects.net/Getty Images
Operating a sports team requires the support of many people. Even at the little league level, a sports team needs coaches, trainers and administrators to cover all the bases. Large college athletic programs and professional sports teams have staffs numbering in the hundreds. Because an internship opens the door to a career in the sports industry, you'll want to seek every opportunity to get in the game.
Amateur Sports
A team with amateur status can still turn a profit. The Amateur Athletic Union (AAU) is one of many organizations that coordinates sports teams and events. Like many amateur athletic governing bodies, the AAU regulates sports teams from all over the country. These teams travel around the country and maintain huge coaching staffs. The AAU offers social media and event operations internships to college students in good academic standing. They seek interns with solid communication skills and prefer students who are enrolled in sports management, business, recreation, physical education or related fields. The U.S. Olympic Team also offers internships in broadcasting, paralympics, marketing, sports medicine, sports administration and more.
Recreational Sports
Similar to amateur sports, recreational sports offer opportunities to learn how to manage events as well as teams. Internships are available through schools, religious organizations or municipalities. Internships with recreational sports teams may be short on glamour, but provide a chance to learn several facets of team management. Public relations and community relations are essential for recreational teams. Students who major in journalism, marketing or physical education are usually preferred. Course work in urban planning may help interested students understand the relationship between leisure services and community development.
College Sports
College sports programs can be big business. Some larger university sports teams generate as much money as professional teams. Competition for internships in these programs is stiff. Opportunities range from sports information and media relations, to working on the training or coaching staff. Of course it makes sense to apply first to the college you are attending. However, smaller universities or community colleges also offer internships with sports teams. Most colleges provide information about these internships on their websites under the athletic department.
Professional Sports
It's easy to think of professional sports organizations as teams only. However, these are major corporations that generate billions of dollars in annual revenue. Like any major corporation, professional sports teams have several divisions and large staffs. They offer full-time and part-time internships in marketing, public relations, communications, community relations, human resources, corporate sales and services, guest services, event services, Internet services, multimedia, merchandise, social media, media relations, accounting, ticketing services, and stadium operations. At this level, the "who you know" adage pays dividends.
References
Resources
Writer Bio
ML Corbett covers interior design, real estate and small business, among other topics. A former day spa owner and marketing manager for an international fragrance company, Corbett knows the ins and outs of the beauty industry. Her work has appeared in "Essence," "Black Enterprise" and on HGTVGardens.com.