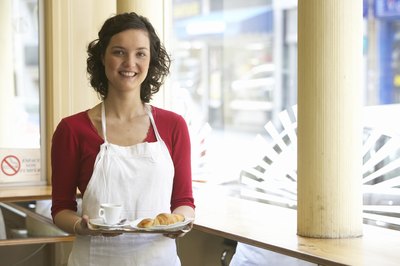 Job resumes should contain a professional experience section. This section allows employers to quickly take notice of all your previous job experience and professional skills. It is recommended that you tailor your resume to the job for which you are applying. When applying for a waitressing position, or any other job that is customer service oriented, describe your specific accomplishments and duties to increase your chances of getting an interview.
Include your waitressing skills in the "Skills" section of the resume. An example of skills a waitress needs to include on the resume are customer service, order taking, multi-tasking and cash-handling.
List the name of the restaurant you worked for in the "Experience" section of the resume. Include the city and state the restaurant was located in.
State your dates of employment. It's best to provide your exact dates of employment. If you're unsure, you could call the restaurant for information or just provide the year and approximate months you worked.
List the official job title you held when working in the waitress position. For instance, your title may have been "Waitress" or "Food Server." If you lie about your job title, it may cost you the position, as it shows a sign of dishonesty.
Use accomplishment statements when describing your job responsibilities. By using accomplishment statements, the hiring manager does not have to guess what your former job duties entailed. For instance, instead of saying you "Provided excellent customer service," you can say "Maintained 100 percent accuracy on all customer orders taken" or "Performed continuous table checks for up to 10 tables at a time."
Avoid listing your waitressing experience that is more than 10 years old, unless you are applying for a waitressing position and you have no recent experience.
Photo Credits
RAYES/Digital Vision/Getty Images