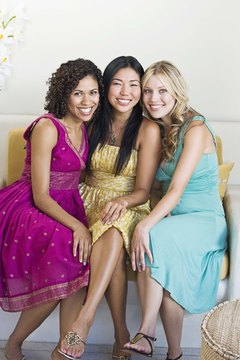 When you hear the term "diversity" tossed around at the office, it typically refers to differences in race, religion, age, culture, gender and sexual orientation among employees. A diverse workplace includes varied types of people, allowing employees to mingle with others outside of their zone of familiarity. This melting pot of cross-cultures can create a fertile setting for the exchange of diverse ideas and solutions to the tasks and issues that crop up at your workplace.
Develop a hiring strategy that ensures your company is hiring diverse individuals. For example, if your company predominately receives applications from men and women over the age of 30, develop a process to reach out to younger qualified candidates by holding job fairs at your local high school and college campus.
Provide subsidized assistance to attract employees with children to your company. A great example of this is Google, which provides benefits such as maternity and parental leave programs, baby showers, mommy mentors programs and adoption assistance.
Offer a flexible holiday schedule that covers different cultural holidays. Because different cultures, races and religions celebrate different holidays, allow employees to choose which holidays they celebrate. For example, Science Applications International Corporation provides employees with two flexible holidays to use whenever they choose throughout the year.
Institute an employee referral program. These programs give incentive to your already diverse workforce, prompting them to recommend positions to their friends and family, which can ultimately further improve the diversity of your company. According to CareerXroads, a staffing and recruiting agency, referrals are more productive sources for diversity hires than major job boards, company affinity groups or diversity career fairs.
Organize teams and offices with diversity in mind. Strategically choose which employees work together so that you can assemble a diverse team of people and viewpoints. A diverse team affords employees the opportunity to learn from each other's differences.
Provide annual diversity training to all employees. Diversity sometimes causes challenges in the workplace if employees are not well educated on the subject. Training that ensures employees are aware and accepting of different cultures, races and genders decreases the likelihood of problems arising due to these differences.
Photo Credits
Jupiterimages/Brand X Pictures/Getty Images