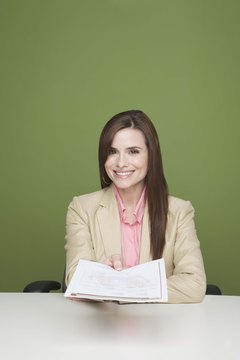 You know you can walk into a job and hit the ground running. To get the job, you need to convince the employer you have no problem with even the steepest of learning curves that come with every new job. Use your resume to emphasize your enthusiasm for taking on new tasks, quickly learning new systems, and seamlessly integrating yourself into the daily aspects of a new workplace environment.
Skills
Create a "skills" section on your resume where you can emphasize things like your adaptability and your willingness to embrace new processes and learn new things. Use words like, "versatile," "flexible" and, "trainable" and phrases like, "open to suggestions and recommendations" or, "happy to take constructive criticism." These phrases indicate your willingness to jump in with both feet, listen to and use feedback, and ask for help if you need it.
Education
In addition to listing your formal education on your resume, show potential employers you're a fast-learning go-getter by emphasizing continuing education and professional development program participation. A hiring manager who sees you not only completed a degree program, but regularly refresh and update skills related to your profession will know you're someone who stays on top of industry trends and looks for ways to enhance skills through learning opportunities.
Past Experience
When you write about your past experience on your resume, use your job descriptions to emphasize how quickly you integrate yourself into new processes and learn new tasks. For example, if you've been part of a rebranding initiative, company revamp or were involved with a merger, note your involvement on your resume. "Learned new graphic design software programs as part of a multinational corporate reorganization" or, "quickly learned internal accounting systems to meet new standards and requirements after corporate takeover."
Cover Letter
When you write your cover letter to accompany your resume, use the letter to further emphasize your fast learning abilities. Relate your skills to the specific requirements of the job you're applying for and give examples of similar workplace situations. For example, if you're applying for job in a retail setting, say something like, "I've worked with several different cash register and computerized accounting and inventory systems, and I'm sure my past knowledge will allow me to quickly come up to speed."
Photo Credits
Jupiterimages/Brand X Pictures/Getty Images