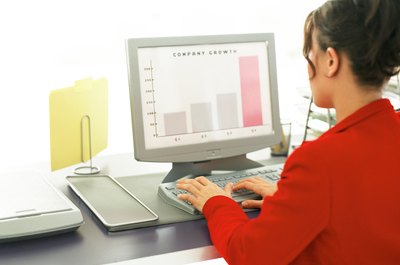 A finance manager oversees the financial department in a business. Her general responsibility is to monitor financial health and communicate with other company leaders. A bachelor's degree and several years of finance-related experience are common requirements to get this job. Median annual pay was $103,910 as of 2010.
Financial Planning
The finance manager normally works closely with other executive managers to set the vision, goals and strategy for the company. Specifically, the finance manager's role is to align financial goals and strategies with those of the overall organization. This may include consideration of how the company will manage its cash flow, whether it will offer dividends to owners and how to manage costs to ensure near-term and long-term profitability.
Financial Reporting
Publicly-owned companies are required to produce quarterly and annual financial statements to show investors how the company is performing. The balance sheet, income statement, cash flow statement and owners' equity statement are all typically produced in the financial department of the company. Private companies also generate these reports for internal use. These reports lay out the financial picture of the company at a given point in time. The balance sheets show the ratio of assets to debt; the income statement shows profit for a given period; the cash flow statement shows the input and output of cash in the period and the equity statement shows the company's net worth at the moment.
Investment Activities
Though she may not make the decisions herself, the finance manager normally heads up the financial investment activities for the company. This includes specific investments in assets, equities and other securities markets, which is common in some businesses, including insurance. It also includes coordinating the issuance of stock to investors, stock repurchase programs and payments of dividends income to shareholders. These activities are often recorded as financing activities on the income statement.
Budgeting
The authority of the finance manager in budgeting processes depends on the size of the company and the scope of her role. Generally, finance managers work with department managers and company executives to figure out how to allocate projected profit to various departments. Once decisions are made, the finance manager coordinates the budgeting schedule and processes by which departments can use allocated funds.
2016 Salary Information for Financial Managers
Financial managers earned a median annual salary of $121,750 in 2016, according to the U.S. Bureau of Labor Statistics. On the low end, financial managers earned a 25th percentile salary of $87,530, meaning 75 percent earned more than this amount. The 75th percentile salary is $168,790, meaning 25 percent earn more. In 2016, 580,400 people were employed in the U.S. as financial managers.
Photo Credits
Jupiterimages/Photos.com/Getty Images