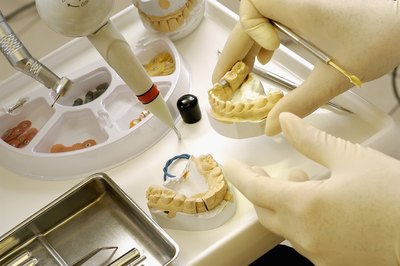 Healthy teeth are an important part of a healthy body. Poor dental health can lead to a variety of problems, including gum disease, loss of teeth and even systemic infections. Fortunately, 21st century dentistry is highly advanced, and treatments are available for a wide range of serious dental problems. Modern dentistry has developed many useful dental appliances, including dentures, implants and other devices. Dental appliances are custom devices based on molds taken by your dentist, and are generally produced by dental technicians working closely with dentists in local labs.
Complete a two-year dental lab technician associate's degree program at a local community college or technical school. You need a high school diploma or GED to enroll, in most cases. Dental technician training programs typically include classes in dental anatomy and dental ceramics, as well as denture and partial denture design. You will also learn computer skills as modern dental assistants often use computer software to design dental implants and appliances.
Become a certified dental technician. The National Board for Certification in Dental Laboratory Technology offers the certified dental technician program, which requires passing three rigorous exams. NBCCERT also offers a certificate of competency program that offers a written and practical exam in each of six specialty areas.
Apply for entry-level dental technician jobs in your area. Larger dental labs employing hundreds of technicians began cropping up in a few major cities in the 1980s and 1990s, but most cities still have at least a handful of smaller, local dental labs. Online job boards such as Monster also list dental technician positions.
Complete the on-the-job-training program offered by your employer. Every dental lab has its own procedures and methods, and new entry-level employees are typically expected to perform well in an on-the-job training program to become permanent employees.
Tip
Consider earning a bachelor's degree in dental technology or a related field. Although a bachelor's degree is not required to work as a dental technician, the additional training will give you a leg up on earning your certifications and make you more attractive to employers.
Photo Credits
Medioimages/Photodisc/Photodisc/Getty Images