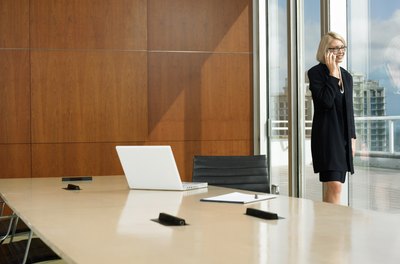 Who wouldn't want to be a CEO? The chief executive officer of an organization typically draws a large salary and receives tons of perks, and, of course, is the boss. However, the reality of being a CEO is a lot different than what many imagine. You have to regularly deal with long hours, travel, high stress and everybody else gunning for your job. That said, the pay is excellent and the view from the penthouse suite is great. The Bureau of Labor Statistics reports that CEOs took home an annual median wage of $166,910 in 2011.
Strategic Planning
In larger organizations, strategic planning is typically one of the CEO's primary responsibilities. The board of directors is the final decision-making authority in most organizations, but the CEO works closely with the board in developing long-term plans, creating budgets and fine-tuning the company's strategic vision. CEOs are sometimes members of the board of directors, or occasionally, the chairperson. CEOs are almost always involved in any merger or acquisition negotiations.
Hiring C-Level Employees
CEOs usually have significant input into the hiring of senior executives such as the chief financial officer, chief technology officer, chief information officer and the chief operations officer. Depending on the size of the organization, the CEO may work closely with the COO or even undertake that role himself in smaller operations. The CEO often works together with the board of directors in creating job descriptions and selecting C-level employees.
Work with Board to Set Goals
Another typical responsibility of the CEO is working with the board to set annual goals for the company and for senior executives. The board sets goals for the company and the CEO, but the CEO usually formulates the annual goals for other senior executives. Department heads then set goals for middle management, who set goals for low-level management and/or rank-and-file employees.
Public Relations
CEOs are frequently the public face of an organization. In most cases, they lead the quarterly conference calls and annual meetings and are expected to give interviews to the media when there is major news relating to the company or the industry. Many CEOs are also advocates for their industry, attending conferences and maintaining contacts with the media, and some CEOs are politically active on the state or even the national level.
2016 Salary Information for Top Executives
Top executives earned a median annual salary of $109,140 in 2016, according to the U.S. Bureau of Labor Statistics. On the low end, top executives earned a 25th percentile salary of $70,800, meaning 75 percent earned more than this amount. The 75th percentile salary is $165,620, meaning 25 percent earn more. In 2016, 2,572,000 people were employed in the U.S. as top executives.
Photo Credits
Digital Vision./Photodisc/Getty Images