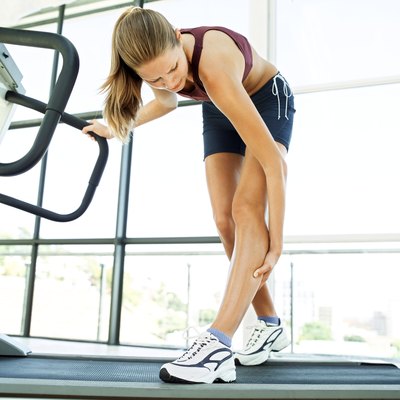 If you think athletes are the only people prone to torn calf muscles, think again. Simply walking down the street or suddenly running to catch the bus can strain your calves and stop you in your tracks for anywhere from eight weeks to three months or more. Stretching can help prevent a calf muscle strain. It promotes blood flow to your muscles and improves your flexibility, which prevents injuries because your joints can easily go through their full range of motion. For optimal results, stretch your calves about two to three times per week and before exercising.
Wall Stretch
Stand in front of a wall and take step forward with your right foot. Point your toes forward and extend your arms so you can place your hands on the wall.
Lean your upper body into the wall, keep your left foot flat on the floor and straighten your back and left knee. Slightly bend your right knee and push your left foot into the floor to exaggerate the stretch in your left calf.
Pause for 10 seconds and switch legs. Stretch both legs three times, and as you get more flexible, gradually extend the duration of each stretch to 30 seconds.
Rope Stretch
Lie face up on the floor with your legs extended.
Wrap a rope, towel or exercise band around the ball of your right foot and extend your right leg straight up to the ceiling, holding the ends of the rope in your hands.
Flex your right foot toward your shin and gently pull the rope toward your body for a deeper stretch. Hold this for 10 seconds, and over time, aim to hold it up to 30 seconds. Repeat the stretch on your other leg and complete a total of three sets.
Staircase Stretch
Stand with both feet on the bottom step of a staircase or other sturdy platform. Hold the banister or wall for support.
Move your right foot back and place the toes of your right foot on the edge of the step.
Bend your left knee slightly and slowly lower your right heel as far as you can. Hold this stretch for 10 seconds before switching legs. Complete three sets and work your way up to holding each stretch for 30 seconds.
Items you will need
Rope, towel or exercise band
Tips
Jog or walk for five to 10 minutes to warm up before stretching.

When stretching, don't bounce, hold your breath or stretch to the point of pain.
Warning
Consult a doctor before engaging in a stretching routine, especially if you have an injury or medical condition.
References
The Anatomy of Stretching; Brad Walker
The New Wellness Encyclopedia; Berkeley University Of California
Photo Credits
George Doyle/Stockbyte/Getty Images