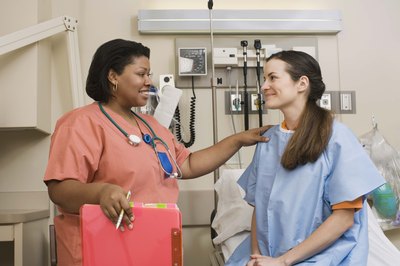 Prenatal nurses are most often called "perinatal" nurses. "Peri-" means around; "natal" means associated with birth. Putting these together covers what a perinatal nurse's work life is like: caring for women through pregnancy, being a strong right arm for them during labor and delivery, and providing guidance with newborn care. A perinatal nurse's job is a rewarding one; she gets to witness the miracle of conception and birth every day. Becoming certified in this field means going a few steps beyond just earning a nursing degree.
Complete your high school education. Earning a perinatal certification in nursing requires going to college or a nursing school, something that is impossible if you don't hold at least a general education diploma, or G.E.D. Concentrate on studying and getting good grades in high school.
Enroll in a nursing program at a college or technical school to earn a bachelor's degree. Or, you can go through a hospital-based diploma program. You can become a registered nurse with an associate's degree, says the Bureau of Labor Statistics, but for specialized certification you will eventually have to advance to a master's degree. It takes approximately four years to earn a bachelor's degree in nursing, though prerequisite courses -- those you must complete before entering nursing classes -- will add extra time to this.
Pass your state's nursing exam to get your license upon graduation. Every American territory and state requires registered nurses to be licensed before they can practice, says the Bureau of Labor Statistics. The nursing exam is called the National Council Licensure Examination, or the NCLEX-RN.
Go to work. Now is the time to begin getting experience in perinatal nursing, says Discover Nursing. Becoming certified in this specialty requires experience and knowledge with obstetrics and infant care.
Return to school to earn your master's degree. A master's degree typically takes two years to complete if you're working at it full-time, and somewhat longer if you're studying part-time. You can continue pursuing your master's while geting work experience as a registered nurse.
Apply for the certification exam and pay the fee. Fees differ depending upon the credentialing board you're apply to. The American Association of Critical Care Nurses charges $225 for current association members and $330 for non-members. Once you've applied, it takes two to three weeks to get registered for an exam. You can get exam studying material from the certification board.
Pass the examination and become a certified perinatal nurse.
Photo Credits
Jupiterimages/Creatas/Getty Images