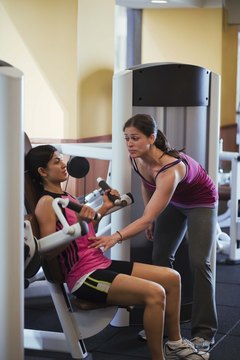 CrossFit is a fitness program that combines strength training with speed and endurance training to forge elite-level fitness. Earning CrossFit certification can be a way to start your personal trainer career or increase your number of clients. At publication time, CrossFit offered three levels of certification for trainers.
Visit a CrossFit gym and experience a CrossFit workout if you are not already familiar with them. Although this is not required, firsthand experience will help you decide whether to commit to training and help you know what experience you want to deliver to your clients following certification. Courses are offered in person at various locations.
Enroll in a Level 1 Trainer Course Fundamentals vis the CrossFit certification website. The Level 1 training course will introduce you to the CrossFit training philosophy, instruct you how to run classes with several clients and adjust the intensity to the varying fitness levels you will encounter. The course will also introduce you to inspecting exercise form and teaching safe and effective technique.
Complete at least six months of CrossFit training to prepare yourself for the intermediate level trainer course. This is not a fixed requirement, but it is a good idea, particularly if you are not already a personal trainer.
Enroll in a Coach's Prep Course, the intermediate level CrossFit certification, via the CrossFit website. This course will expand on teaching proper exercise technique, planning an effective CrossFit program for your clients, perfecting feedback and becoming a better trainer. You will lead small group workout sessions, receiving feedback from an experienced CrossFit instructor.
Enroll in a CrossFit Level 2 Coach Certification course after being a CrossFit instructor for at least a year. This course includes a graded written and practical exam judging both your knowledge of fitness and ability to teach. Coaches on this level are expected to have taken additional coursework or certification in Olympic lifting, joint and functional mobility, training planning, rowing and running.
Tip
CrossFit also offers an additional course in instructing children.
References
Photo Credits
Jupiterimages/Comstock/Getty Images