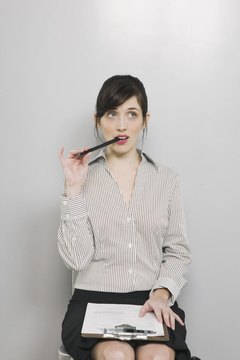 A cover letter is an extra tool you use to sell yourself to an employer. If you fail to submit a cover letter to job fair recruiters, you are selling yourself short. The cover letter is a professional way to introduce yourself to a recruiter, encouraging him to take a look at your resume and ultimately hire you for the job. It is a good idea to bring general and targeted cover letters with you to the job fair. Targeted cover letters are impressive, in that it sends a message to the job fair recruiter that you took time to perform research before attending the fair.
Type your name and mailing address at the top of the cover letter. Include the month, day and year of the job fair's date. Use left alignment for your contact information and date.
Do not put a company's name and address on a general cover letter. If you know that a company you are interested in will be present at the job fair, create a targeted cover letter just for that company. In a targeted cover letter, include the name of the company, as well as the mailing address, with left alignment. You can often get this information from the company's website.
Type "Dear Hiring Manager" or "Dear Human Resources" for the cover letter greeting. If you want to put a name on a targeted cover letter, be sure you know the name of the company representative attending the job fair. One way to get this information is to contact the company human resources department prior to the job fair.
Type the body of the cover letter. In it, mention the type of industry job you are interested in, instead of mentioning an exact job position. Examples of industry job types include customer service, management, sales, education and health care. If you conduct research to determine the exact jobs a specific company is hiring for, create a targeted cover letter for that company. In a targeted cover letter, mention the exact job position you are interested in. For instance, you may list the job as "certified nursing assistant," instead of "health care."
Create multiple versions of your cover letter. Depending upon your job preferences, you may create one for management positions, another for customer service and a different one for education. By doing so, you ensure that each recruiter receives a cover letter that is targeted and relevant to a specific job type.
Specify in the body of the cover letter that you learned of the open position through the job fair. Include two to three sentences summing up your qualifications and experience.
Close the cover letter by asking for an interview at a mutually convenient time. Include your best contact number and the hours you can be reached on that number.
Thank the company representative for his time. Add a professional closing, followed by your name and handwritten signature. Examples of professional closings include "Sincerely," "Respectfully" and "Cordially."
Photo Credits
Brand X Pictures/Brand X Pictures/Getty Images