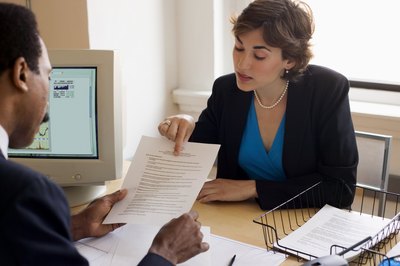 Your resume needs to grab the attention of a human being -- and maybe even a software program called an applicant tracking system. You can stand out from the other applicants by properly including your strengths in the document. Recruiters and hiring managers may only have a minute to determine if you are suitable to go forward in the hiring process based on the information in the resume. Write your strengths in the resume in a way that highlights your strongest skills and shows value to hiring employers.
Tailor your resume to a single job opening, for a single employer, if possible. Read the full job advertisement to get a sense of what the company considers as strengths. For example, the opening line, or hook, in a job advertisement for a customer service representative might read, "Be A Part of An Award-Winning, Nationally Recognized Customer Service Team." A job seeker can deduce from this that the company puts heavy emphasis on customer service as a strength.
Make a list of your strongest skills. Focus on job-related areas, such as an office assistant who is capable of typing 75 words per minute, has proficiency in using Microsoft Office Suite and knowledge of how to maintain and as well as use business office machines and equipment. A project coordinator might have a Certified Associate in Project Management, and her strengths are setting up, monitoring and communicating during these activities.
Add a section at the top of your resume, under your Objective or Headline section, called "Summary of Qualifications." You want your strengths to appear in this section, in the first third of the document, so that the hiring manager or recruiter sees them as quickly as possible. The applicant tracking system program that some larger companies use in the hiring process might easily pick up on your strengths listed under this section header, as well.
Write your areas of strength as single phrases or incomplete sentences under the Summary of Qualifications. Use a paragraph format. For example, a person who is applying for a customer service representative position might use the following summary: "Five years of Level I, II and III customer service experience. Attentive to quality assurance standards and guidelines. Adept at conflict resolution. Proficient multi-tasker."
Photo Credits
Creatas Images/Creatas/Getty Images