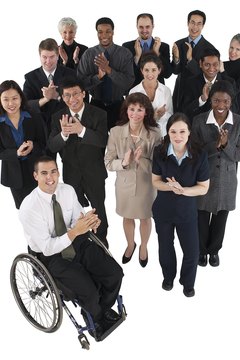 When you apply for a job the last page of the application packet will ask you all the questions you think employers aren't supposed to ask about race, veteran status or sex. You don't have to answer the questions; the law says employers must guard this data from casual access and you wonder what it's for. The simple answer is, it demonstrates diversity in your employer's workplace.
Data Collection
Every year, those U.S. companies with 100 or more employees must submit a report on their diversity to the U.S. Equal Employment Opportunity Commission. State and local governments, school systems, universities, American Indian tribes and tax-exempt private organizations -- other than labor unions – are exempt from this requirement. The form demonstrates the companies' compliance with Title VII of the Civil Rights Act of 1964. The EEOC compiles the information from the forms, known as Standard Form 100 EEOC-1, by area and industry only. This prevents unauthorized identification of individual employers or employees.
Getting to Know You
The U.S. Equal Employment Opportunity Commission requires businesses to attempt to collect information about you. When you apply for a job, as part of the application process, employers ask you for information on your ethnicity, sex, age and status as a veteran. The form is separate from the application. These forms routinely note that disclosure of this information is voluntary and the employer uses it to ensure compliance with federal law. You may choose not to complete the form or to participate in the employer's workplace diversity program. If this is the case, check the box on the form that indicates your unwillingness to participate in this program. Completing the form supposedly confers no advantage, nor does it create a disadvantage in employment.
Federal Employees
The same data on age, sex and race is collected for federal employees or applicants for federal jobs. The Notification and Federal Employee Antidiscrimination Act of 2002, also known as the NoFEAR Act, protects diversity in the federal workforce. Each federal agency uses this data in the same way as their private-sector counterparts, to ensure compliance with existing federal law in employment, promotion or job assignment. The law also ensures protection for those who bring a complaint related to discrimination.
Diversity's Executive Order
Employers who are federal contractors may use the data they collect from their employees to develop the affirmative action plans required by Executive Order 11246. Section D (i) of the order prohibits companies from developing a hiring quota. The requirement for diversity is often seen as a quota system itself, in the belief that a company must have a certain number of employees of varying races, sexes, ages and ethnicity. The order prohibits companies from hiring or promoting a person based solely on their inclusion in one of the groups protected by the Act, "under the guise of affirmative action numerical goals."
Photo Credits
Hemera Technologies/PhotoObjects.net/Getty Images